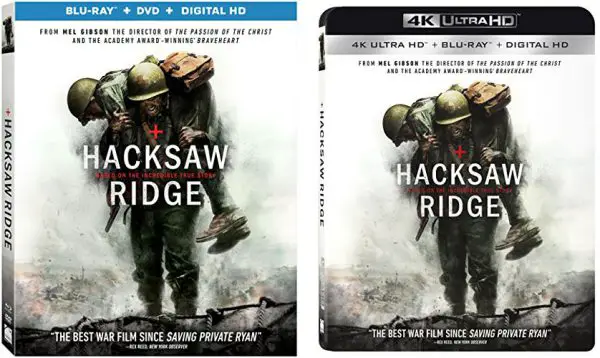 This week, Mel Gibson's World War II film Hacksaw Ridge starring Andrew Garfield releases to Blu-ray, 4k Ultra HD Blu-ray, and DVD. The film was previously released to Digital HD, selling for $14.99, but the 2-disc Blu-ray combo from Lionsgate includes a BD, DVD, and Digital HD copy for about $5 more.
Or, pick up the 2-disc 4k Ultra HD Blu-ray edition that includes a UHD BD, Blu-ray and Digital HD copy for about $26.99.
The film hits stores in disc formats and on demand Feb. 21, 2017.
Both Blu-ray releases of Hacksaw Ridge include bonus content "The Soul of War," "Veterans Day Greeting with Mel Gibson," and deleted scenes.
The Blu-ray is formatted in 1080p and the Ultra HD Blu-ray in 2160p, both at 16×9 (2.40:1) widescreen aspect ratio. The soundtrack features audio in Dolby Atmos and/or Dolby TrueHD 7.1 surround sound.
'Hacksaw Ridge' Special Features:
The Soul of War: Making Hacksaw Ridge Documentary
Veterans Day Greeting with Mel Gibson
Deleted Scenes
4K Blu-ray Technical Specs:
Audio:

English Dolby Atmos
Spanish 5.1 Dolby Digital Audio
English 2.0 Dolby Digital Audio Optimized for Late-Night Listening

Subtitles
Blu-ray Technical Specs:
Audio:

English Dolby Atmos
Spanish 5.1 Dolby Digital Audio
English 2.0 Dolby Digital Audio Optimized for Late-Night Listening
English Descriptive Audio

Subtitles