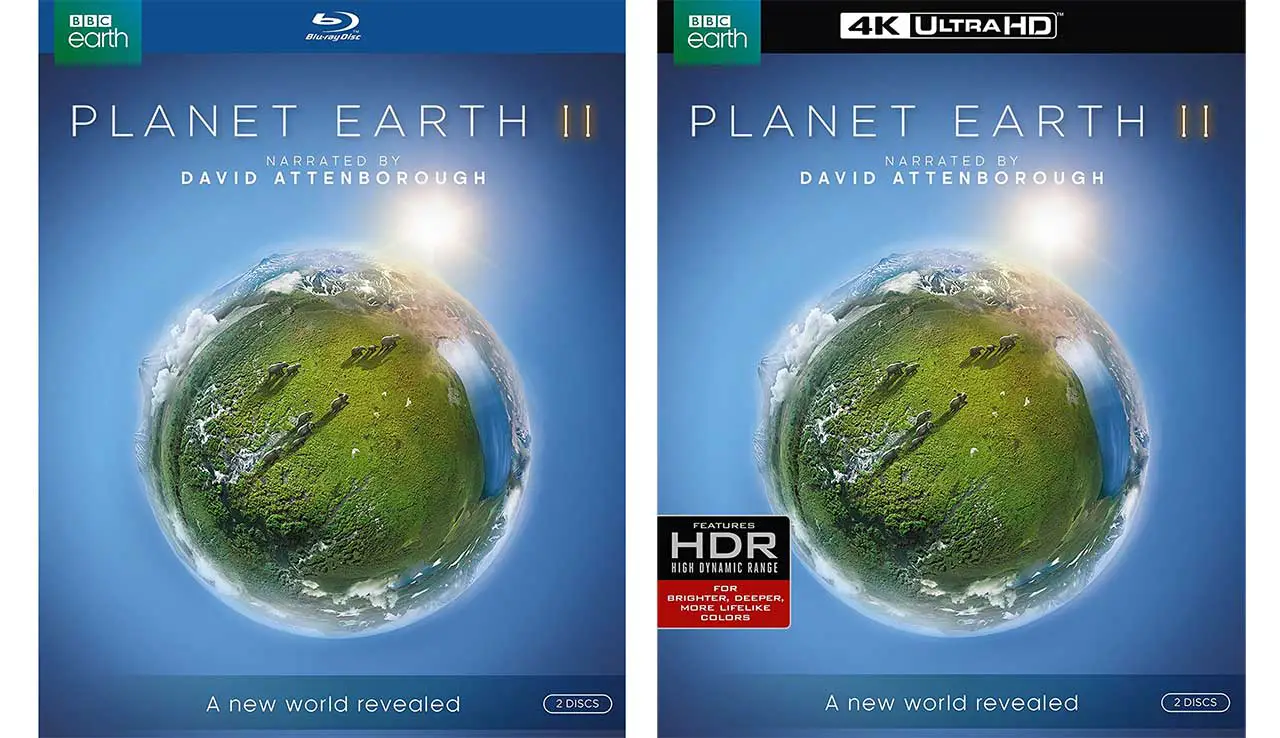 BBC Home Entertainment will release the 2016/2017 6-episode documentary series Planet Earth II to Blu-ray, 4k Ultra HD Blu-ray, and DVD on March 28, 2017.
The Blu-ray edition is presented in 1080p, while the Ultra HD Blu-ray edition brings 4-times the resolution at 2160p, as well as enhanced color with HDR (High Dynamic Range) on TVs that support the specification. Of course, you must have a 4k Blu-ray player to play Ultra HD Blu-ray discs.
We don't have confirmation of audio formats yet, or bonus materials, but will update this article once received. [Update: Audio offered in DTS-HD Master Audio 5.1. Extras include the 54-minute "Planet Earth Diaries" that shows how the footage was captured.
By the way, Sony's first Ultra HD Blu-ray player will release in March with a special movie promotion until June, 2017.
On Amazon, Planet Earth II is currently selling for $34.96 (Blu-ray), $49.96 (Ultra HD Blu-ray), and $29.96 (DVD).
Planet Earth II premieres this weekend on Saturday, Feb. 18 for the first time in the United States on BBC America, after having its run in the UK. The producers of the series upped the quality from the initial Planet Earth series to 4k. And, Dish Network is planning a 4k broadcast of the premiere on Channel 540.
From BBCHE:
"New technology has allowed individual stories to be captured in an unparalleled level of detail. For the first time, viewers are immersed in incredible landscapes and share the most dramatic moments in the lives of animals. From spellbinding wildlife spectacle to intimate encounters, Planet Earth II will take you closer than ever before."
Planet Earth II Episodes:
Green Worlds In the jungle, abundant heat, light and water create ideal conditions for life. But as a result this is the most competitive arena, home to a huge diversity of life.
Dry Worlds Water may be the essence of life in the desert but it is also a source of great conflict.
High Worlds Only the toughest can survive in a place half way towards outer space.
Island Worlds With little competition, an island existence may seem idyllic, but isolation comes at a price. Adapting to new ways of life takes time.
Open Worlds On the world's vast and open grasslands, the best tactic seems to be eat and try not to get eaten.
Urban Worlds Cities are the fastest growing habitat on Earth, but these brave new worlds offer fresh opportunities.
[amazon_link asins='B000MRAAJM,B01N49JWWM,B01LTHYICS' template='ProductGrid' store='API-user-hdr' marketplace='US' link_id='4a1c3b8a-d4b6-11e7-95b3-4b75cf063ffc']
Get more news about Ultra HD Blu-ray, 4k broadcasts, and HDR on our dedicated categories.