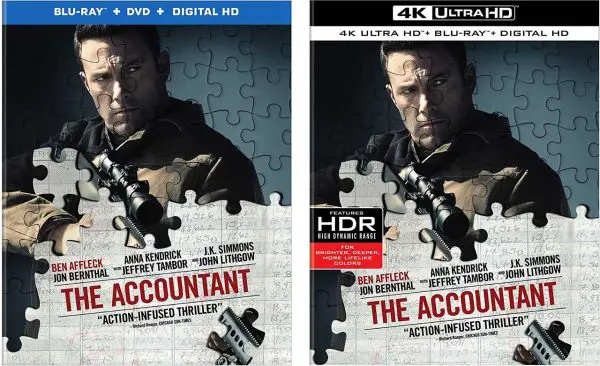 Warner Bros.' crime/drama The Accountant is already available to purchase in Digital HD, but will also release to disc formats including Blu-ray, 4k Ultra HD Blu-ray, and DVD on January 10, 2017.
On Blu-ray, The Accountant is formatted in 1080p at 16×9 2.4:1 widescreen aspect ratio. On UHD BD, the film has a resolution of 2160p with HDR color at the same aspect ratio. Both editions feature an English DTS-HD Master Audio soundtrack.
Extra bonus material on both Blu-ray editions include the featurettes "Inside the Man," "Behavioral Science," and "The Accountant in Action."
And, each edition includes a digital copy redeemable with UltraViolet partners.
The Accountant on Blu-ray with DVD and Digital HD copies is priced at $24.99, while the Ultra HD Blu-ray edition with Blu-ray and Digital HD copies is $29.99 (current pricing on Amazon.com as of this article).
The film was written by Bill Dubuque (The Judge), directed by Gavin O'Connor (Pride & Glory), and stars Ben Affleck, Anna Kendrick, and J.K. Simmons.