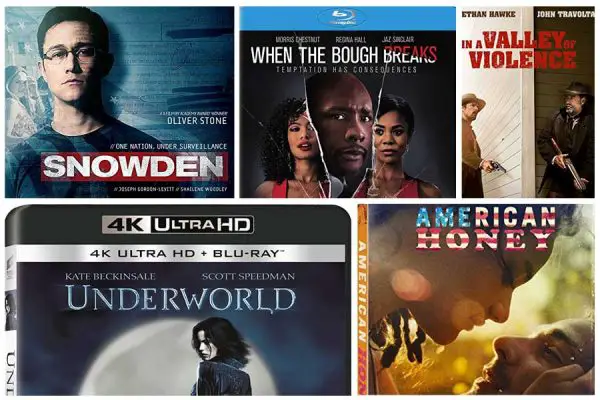 This week Oliver Stone's drama Snowden starring Joseph Gordon-Levitt, Zachary Quinto, and Shailene Woodley is available on Blu-ray in a combo pack that includes DVD and Digital HD copies. The Blu-ray is formatted in 1080p at 2.40:1 widescreen aspect ratio with a DTS-HD Master Audio 5.1 soundtrack. Bonus material includes deleted scenes, interviews, and extra "Finding the Truth." Price: $19.99
Sony Pictures Home Entertainment waited for a quiet week to re-release 'Underworld' franchise films to Blu-ray, including the title film Underworld (2003) to 4k Ultra HD Blu-ray. The UHD BD release features audio in Dolby Atmos (an improved sub-stream of Dolby TrueHD 7.1) and video in 2160p with HDR color enhancements. The films have been released to new Blu-ray editions in anticipation of Underworld: Blood Wars slated to release on January 6, 2017. Price: $24.99
And, writer/director Andrea Arnold's drama American Honey is now available on Blu-ray from Lionsgate with a Digital HD copy from UltraViolet partners. The film stars Shia LeBeouf, McCaul Lombardi and Riley Keough about a teenage girl who joins an unhinged traveling magazine sales crew. Price: $24.99
Those are our top picks for the week. Check out an extended list of new Blu-ray titles below.
New on Blu-ray, December 27, 2016
Movies
Snowden
Underworld (2003) – (Ultra HD Blu-ray)
Underworld Evolution (2006)
Underworld: Rise of the Lycans (2009)
Underworld Awakening (2012)
American Honey
When the Bough Breaks
In a Valley of Violence
The Dressmaker
A Man Called Ove
The House That Screamed (1970)
Dog Eat Dog
TV / Series
Versailles: Season One
Banshee: The Complete Third Season
Close to the Enemy: Season 1
Aria the Scarlet Ammo: Season One S.A.V.E.