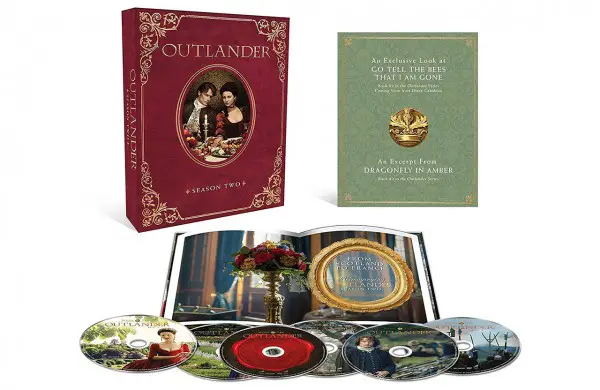 Season Two of the Starz Original Series Outlander is now available in a special Collector's Edition from Amazon and Sony Pictures Home Entertainment.
The Collector's Edition includes all 13 episodes of Season Two (as opposed to Season One broken into Volume 1 and Volume 2), and as bonus the Blu-ray and Special Collector's Edition also provide redemption codes for Digital HD copies from UltraViolet partners.
The Outlander Season Two Amazon Exclusive Collector's Edition features Collectible Box, 32-page book with photographs and behind-the-scenes sketches, an exclusive sneak peek from Book 9, Diana Gabaldon's forthcoming book in the Outlander series, and a bonus disc with 20 minutes of exclusive added value content.
The Collector's Edition sells for $75.99, while the Blu-ray is priced at $55.99 and DVD $45.99.
Outlander Season Two Amazon Exclusive Collector's Edition Includes:
A Collectible Box
A 32-page book with photographs and behind-the-scenes sketches
An exclusive sneak peek from Book 9, Diana Gabaldon's forthcoming book in the Outlander series
A bonus disc with 20 minutes of exclusive added value content