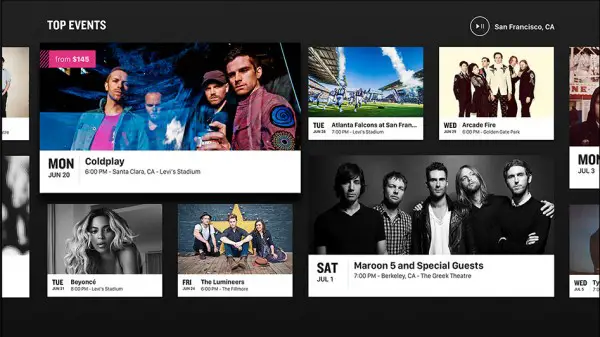 StubHub has launched their first ticketing app for Apple TV that let's users search, browse, and purchase event tickets directly through the media player.
StubHub says the new app for Apple TV is designed to be "less transactional and more emotional," encouraging users to browse and discover events in their neighborhoods throughout the United States. The app was developed specifically for the 4th generation Apple TV, with much of the interactive design based on user feedback and testing.
"We know that most people will be interacting with our app from their couch, as they're looking for something to do, so we kept the StubHub app for Apple TV focused on browsability and discovery," said Marcus Shelksohn, director of mobile products for StubHub.
The StubHub tvOS app is free to download from the Apple App Store and requires an account to purchase tickets. StubHub iOS apps also exist for the iPhone, iPad and Apple Watch.