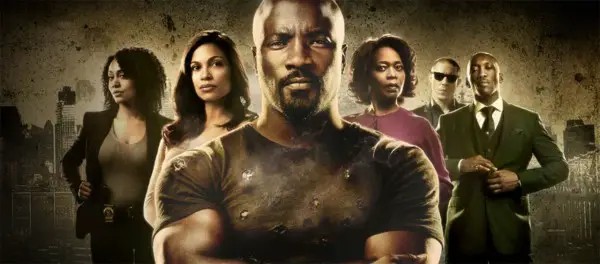 Netflix has released the entire first season of Marvel's Luke Cage, with all thirteen 55-minute episodes ready to stream at will. The show is yet another Marvel-inspired series, following Daredevil, Agents of S.H.I.E.L.D, and Jessica Jones where Mike Colter made his first appearance as Cage.
The series is available to stream in Full HD (1080p) and 4k Ultra HD (2160p) with High Dynamic Range (HDR). HDR is a new specification that expands the color range and contrast of video, producing more realistic and brilliant imagery along with the increased resolution of 4k. (Learn more about streaming in Ultra HD and in HDR.)
Marvel's Luke Cage begins in Harlem, NY, where Cage works in a barbershop cleaning floors and generally "laying low" after serving time at a private prison for a crime he didn't commit. His superhero powers unrevealed to those around him, Cage eventually decides to use his powers to protect the innocent among a crime-ridden city.
The series also stars Simone Missick as police officer/hero Misty Knight, and Mahershala Ali as Cornell 'Cottonmouth' Stokes, one of the major crime lords characterized in the series.The series was created by Notorious writer Cheo Hodari Coker.
Marvel's Luke Cage is inspired by the comic book that first introduced the hero in "Luke Cage, Hero for Hire #1" (June 1972).