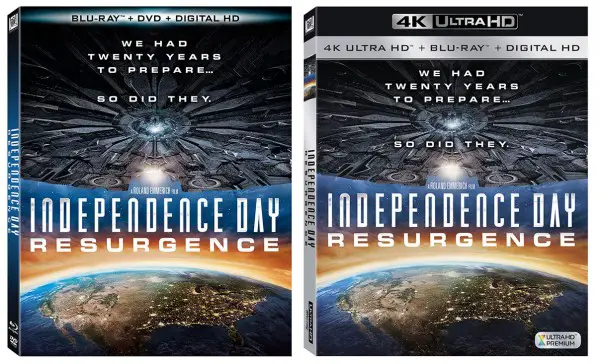 20th Century Fox has announced the release dates for Independence Day: Resurgence to Digital HD and multiple Blu-ray formats. The film will first release to Digital HD on Tuesday, September 27th followed by Blu-ray, and DVD three weeks later on October 18th.
Blu-ray editions include a standard 2-disc Blu-ray ($19.99), 2-disc Blu-ray 3D ($24.99), and 2-disc Ultra HD Blu-ray ($25.99). All three BD editions, including the DVD release ($14.99), also include a Digital HD copy. The prices mentioned reflect current Amazon pre-order prices and may not be consistent with other retailers.
Will there be any bonus content? Absolutely. Fox is packing quite a few extras including eight deleted scenes, a featurette on "The War of 1996," the morning show parody "It's Early, ABQ" featuring Jeff Goldblum, Judd Hirsch and Liam Hemsworth, audio commentary from Roland Emmerich, and the documentary "Another Day: The Making of Independence Day: Resurgence." (See the full least of special features below.)
The Blu-ray Discs are formatted in 16:9 (2.39:1) widescreen aspect ratio with an English 7.1 DTS-HD Master Audio soundtrack on the 1080p Blu-ray and 3D Blu-ray editions, and Dolby Atmos on the Ultra HD Blu-ray edition.
Independence Day: Resurgence Special Features (Available on All Formats)
Eight Deleted Scenes with Audio Commentary by Roland Emmerich
The War of 1996
It's Early, ABQ!
Another Day: The Making of Independence Day: Resurgence (available as Digital HD Extra on DVD only)
Gag Reel
Audio Commentary by Roland Emmerich
Concept Art
Theatrical Trailers and TV Spot