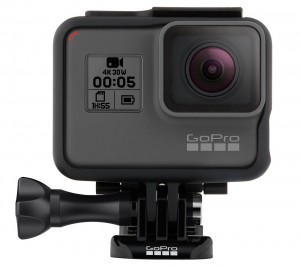 GoPro has a new flagship camera and it's the Hero 5 Black, replacing the Hero 4 that long-served as the company's top-of-the-line model. The camera shoots up to 12-megapixel photos and can also capture in RAW mode with Wide Dynamic Range video. Other features include a 2-inch LCD touchscreen and built-in GPS tracking.
In addition to the Hero 5 Black, GoPro announced the Hero 5 Session camera, maintaining the cube-shaped design of the model that was released about a year ago. The camera isn't as high-end as the Hero 5 Black: no display, GPS, or RAW mode; but what it lacks in features makes up for in compact design.
Both action cams record video in 4K at 30 fps and allow voice control in seven different languages upon launch (more languages may be coming in the near future). And, the Hero 5 Black and Hero 5 Session are water resistant up to 33 feet (that's without any housing).
The cameras can also be used with GoPro's new Karma Drone, along with the GoPro 4 Black/Silver models.
The GoPro models will be available starting October 2nd, 2016, priced at $399 (Hero 5 Black) and $299 (Hero 5 Session).