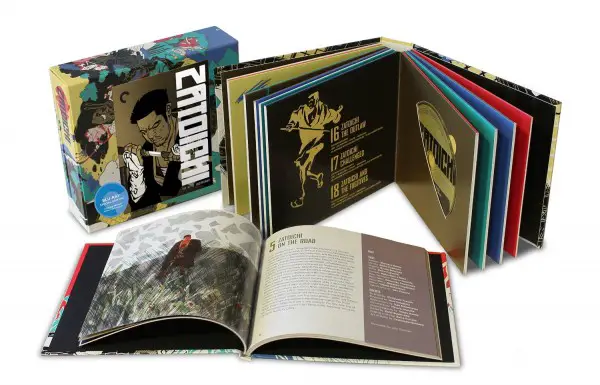 Kan Shimozawa's fictional character Zatoichi is the subject of 25 Japanese films spanning from 1962 through 1989. Also the main character in a television series that ran four years, Zatoichi is a masseur and master swordsman living during the Edo period who happens to be blind.
The new boxed set from Criterion Collection, taking the name from the last film made titled "Zatoichi the Blind Swordsman," is the first to combine all the Zatoichi feature films into one collection; a 9-disc set with a total runtime of 2,190 minutes.
Along with digital restorations of all 25 films backed by uncompressed monaural soundtracks, the beautifully-packed collection includes the 1978 documentary "The Blind Swordsman," a new interview with Asian-film critic Tony Rayns, trailers, and new English subtitles.
There's also a special book with 25 illustrations by 25 different artists, essay by critic Geoffrey O'Brien, the original short story "The Tale of Zatoichi" written by Kan Shimozawa, and film synopses from critic/novelist Chris D.