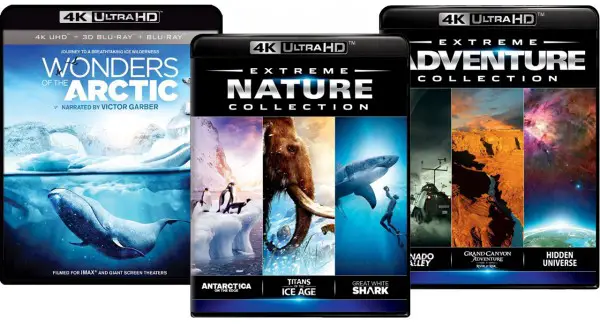 Today, four new documentary films are available on Ultra HD Blu-ray, the newest disc format that plays 4k material on Ultra HD TVs connected to Ultra HD Blu-ray players. The discs provide up to four-times the resolution of conventional Blu-ray disc, with HDR content on many new titles.
Universal Studios Home Entertainment has released two nature documentaries to 4k Ultra HD Blu-ray. Extreme Nature Collection and Extreme Adventure Collection are both formatted in 2160p video at 1.78:1 widescreen aspect ratio, with an English DTS-HD Master Audio 5.1 soundtrack.
From the IMAX film collection Shout! Factory has packaged IMAX: The Last Reef: Cities Beneath The Sea and IMAX: Wonders Of The Arctic, both of which come with the documentaries in Ultra HD Blu-ray with HDR, 3D Blu-ray, and Blu-ray. And, it appears both titles also include Digital HD copies to download or stream.
The two Shout! Factory titles are selling for about $28.99 (List $39.99) from Amazon and other dealers. Extreme Nature Collection is listed for $28.99 (Reg. $29.99) and Extreme Adventure Collection is selling for about $19.99 (List $29.99).
Get more news about Ultra HD Blu-ray and Ultra HD Blu-ray players.