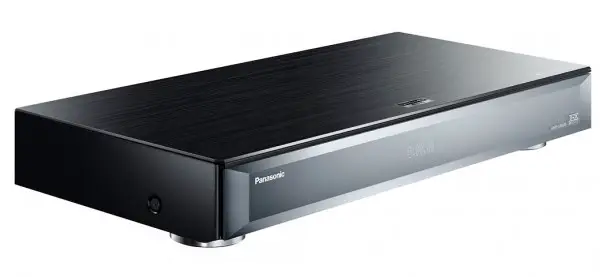 Best Buy is now selling the Panasonic DMP-UB900 Ultra HD Blu-ray player at limited stores, at least that's what their website says. However, we had no luck finding a store within 250 miles of a half-dozen zip codes in the US. The player may gradually be distributed to stores throughout the month, and will likely be found in the Magnolia Home Theater section.
At $699, the UB900 is priced higher than the Samsung UBD-K8500 ($315) and Philips BDP7501 ($299), but packs some features for the home theater enthusiast that hopefully justify the higher price tag. For one, the UB900 is THX-certified — the first UHD BD player to be awarded the classification.
The UB900 also features twin HDMI ports to separate audio and video (4:4:4 compatible), 7.1-channel analog audio output, and support for high-resolution audio with 192kHZ/32-bit DAC.
One review of the UB900 from a buyer mentions the player doesn't have an option to output color at 10-bit instead of 8-bit or 12-bit, making it somewhat odd to use with a 4k Ultra HD TV that displays 10-bit color. But most reviews have been in the 4 or 5-star range bolstering the UB900 as the flagship Ultra HD model currently (somewhat) available in the US.
For those not ready to pay $700 for the DMP-UB900, Panasonic is expected to sell a less expensive model in the near future.
Here's a link to Best Buy's product page where you can search within 250 miles of a zip code for the Panasonic DMP-UB900.