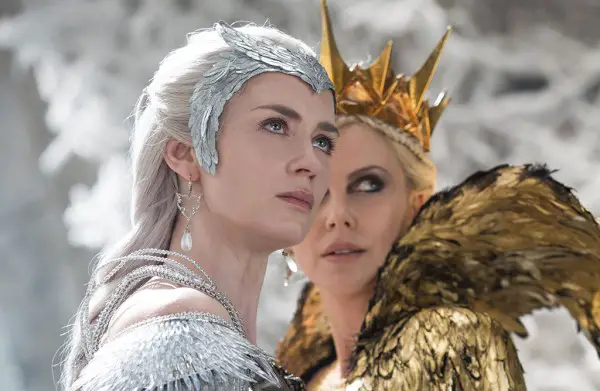 Universal Pictures Home Entertainment will release The Huntsman: Winter's War early to Digital HD on August 2nd, three weeks before the film is available on Ultra HD Blu-ray (4k), Blu-ray, and DVD on August 23rd. The film can be pre-ordered for $14.99 from services such as iTunes, Amazon Video, Google Play and Vudu but will likely stay the same price upon release.
Those who want an extended edition of the film, however, may want to wait until the disc versions arrive as the Blu-ray and DVD will include exclusive bonus features not available with the digital copy such as behind-the-scenes production secrets, gag reel, deleted scenes, commentaries and more (here are more details on the disc releases of The Huntsman: Winter's War.
The Huntsman: Winter's War is the sequel (and prequel) to Snow White and the Huntsman (2012), with events that take place both before and after 'Snow White.' Directed by Cedric Nicolas-Troyan, the film stars Chris Hemsworth, Jessica Chastain, Emily Blunt, and Charlize Theron.
From Universal Pictures Home Entertainment:
The Huntsman: Winter's War stars Charlize Theron (Mad Max: Fury Road, Monster) as the evil Queen Ravenna, who betrays her good sister Freya (Emily Blunt: Sicario, Edge of Tomorrow) with an unforgivable act, freezing Freya's heart to love and unleashing in her an icy power she never knew she possessed. Retreating to a kingdom far to the north, Freya raises an army of Huntsmen as her protectors, with the only rule that no two of them should ever fall in love. As a war for domination escalates between the two queens, the hero standing between good and evil is Freya's most elite Huntsman, Eric (Chris Hemsworth: Thor, Star Trek Into Darkness). Alongside fellow warrior Sara (Jessica Chastain: The Martian, The Help) — the only woman who has ever captured his heart — Eric must help Freya vanquish her sister or Ravenna's wickedness will rule for eternity.