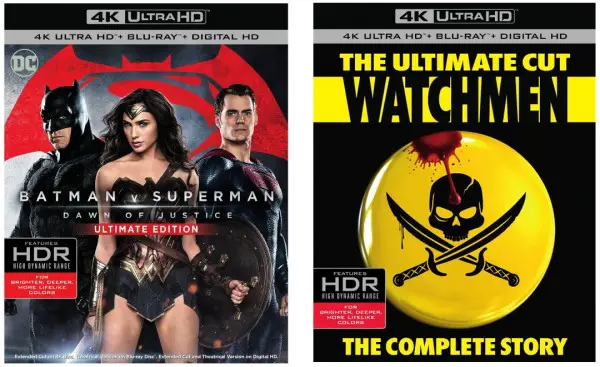 4k Blu-ray titles keep trickling in, whether day-and-date with newly-released titles such as The Divergent Series: Allegiant or re-released hits like J.J. Abrams first two Star Trek films. Today, two films from Warner Home Video (from the DC Comics world) are now available on Ultra HD Blu-ray Disc, the format that plays in 4k resolution and for the most part support HDR (High Dynamic Range) content.
The first is Batman v Superman: Dawn of Justice now available on Ultra HD Blu-ray. The film is available in several other formats including Digital, DVD, Blu-ray, and Blu-ray 3D, but only the UHD BD release features 4k resolution and HDR. Amazon is selling this multi-format title (with Blu-ray and Digital HD) for $29.99.
The second title available today from Warner Home Video on 4k Blu-ray is Watchmen: The Ultimate Cut. The Ultimate Cut, following the Director's Cut, was previously released on Blu-ray last year but has been remastered for 4k with High Dynamic Range for 4k TVs that support the format. The edition (with Blu-ray and Digital HD) is currently selling for $31.99 on Amazon.
Digital HD copies can be redeemed via UltraViolet partners.