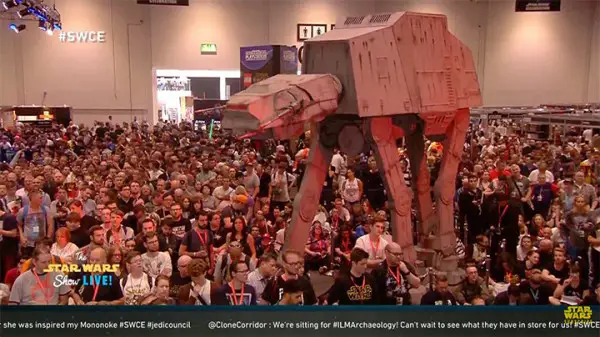 YouTube is live-streaming the 2016 Star Wars Celebration from Europe. The event takes place starting today, July 15 through Sunday, July 17. For those of use who couldn't get to ExCeL London for the celebration, the live streams include panel discussions, floor coverage, and interviews with cast members, production team members, and more.
Highlights of Day 1 include "An Hour With Mark Hamill," "Ahsoka's Untold Tales," and "Rogue One: A Star Wars Story." Day 2 will feature "Anthony Daniels, Without Protocol," "Star Wars Rebels Season 3," and "The Minds Behind EA's Star Wars Games." Day 3 highlights include the "2016 Star Wars Fan Film Awards Ceremony," "Carrie Fisher: The Princess Diaries," and "Lucasfilm: The Art of Storytelling." (See the full schedule below.)
SW fans can view the live-stream from StarWars.com, directly from YouTube, or the embedded video down below. For the best experience stream the event from YouTube on your Smart TV! Live video is provided in Full HD at 1080p/60fps (or 720p/60fps).
Star Wars Celebration Europe 2016 Schedule:
Friday, July 15
11:00 a.m. BST / 6:00 a.m. EDT / 3:00 a.m. PDT
Star Wars Show Live! – Friday Preview

11:30 a.m. BST / 6:00 a.m. EDT / 3:00 a.m. PDT
An Hour With Mark Hamill
1:00 p.m. BST / 8:00 a.m. EDT / 5:00 a.m. PDT
Ahsoka's Untold Tales
2:00 p.m. BST / 9:00 a.m. EDT / 6:00 a.m. PDT
ILM Presents: Star Wars Archeology
3:45 p.m. BST / 10:45 a.m. EDT / 7:45 a.m. PDT
Star Wars Show Live! – Rogue One Panel Preview
4:00 p.m. BST / 11:00 a.m. EDT / 8:00 a.m. PDT
Rogue One: A Star Wars Story
5:00 p.m. BST / 12:00 p.m. EDT / 9:00 a.m. PDT
Star Wars Show Live! – Rogue One Reaction
---
Saturday, July 16
10:00 a.m. BST / 5:00 a.m. EDT / 2:00 a.m. PDT
Star Wars Show Live! – Saturday Preview

10:15 a.m. BST / 5:15 a.m. EDT / 2:15 a.m. PDT
Droids of The Force Awakens

12:00 p.m. BST / 7:00 a.m. EDT / 4:00 a.m. PDT
The Creatures, Droids & Aliens of Star Wars: The Force Awakens
1:00 p.m. BST / 8:00 a.m. EDT / 5:00 a.m. PDT
Keeping Up With The Fetts
2:00 p.m. BST / 9:00 a.m. EDT / 6:00 a.m. PDT
Anthony Daniels, Without Protocol
4:00 p.m. BST / 11:00 a.m. EDT / 8:00 a.m. PDT
Star Wars Rebels Season 3
5:00 p.m. BST / 12:00 a.m. EDT / 9:00 a.m. PDT
Marvel's Star Wars Comic Books
6:00 p.m. BST / 1:00 p.m. EDT / 10:00 a.m. PDT
MEET ILMxLAB: The Future of Immersive Entertainment
7:00 p.m. BST / 2:00 p.m. EDT / 11:00 a.m. PDT
The Minds Behind EA's Star Wars Games
---
Sunday, July 17
10:00 a.m. BST / 5:00 a.m. EDT / 2:00 a.m. PDT
Star Wars Show Live! – Sunday Preview, Tiya Sircar

10:15 a.m. BST / 5:15 a.m. EDT / 2:15 a.m. PDT
2016 Star Wars Fan Film Awards Ceremony

11:00 a.m. BST / 6:00 a.m. EDT / 3:00 a.m. PDT
Carrie Fisher: The Princess Diaries

12:00 p.m. BST / 7:00 a.m. EDT / 4:00 a.m. PDT
Lucasfilm: The Art of Storytelling

1:00 p.m. BST / 8:00 a.m. EDT / 5:00 a.m. PDT
Ray Park Unleashed

4:00 p.m. BST / 11:00 a.m. EDT / 8:00 a.m. PDT
Closing Ceremony