ESPN has dumped the ESPN Radio app and moved its live and on-demand audio streams to their main ESPN app. The change affects the ESPN Radio app for both Google Android and Apple iOS devices.
As of just a few days ago, if you open the ESPN Radio app to try and access On Demand content you'll hear a looped message about the change: "Game Over! Times Up! ESPN Radio shows, podcasts and live games are no longer available on this app."
And, the Live Radio section is completely empty except for a "Loading" graphic that never goes away. Downloads should still be available though, preceded by the ESPN message above. I've got a few Colin Cowherd broadcasts from a year ago that are still in the app memory.
But unless you have saved podcasts you may as well delete the app and free up some memory to download the ESPN app from iTunes or Google Play.
The ESPN app looks quite a bit different from the ESPN Radio app. There is no longer a Live Radio icon where you can easily find all the live broadcasts. And, you have to search for the shows you like and subscribe to see them show up on the "Listen" homepage. In the long run, it seems like an easier way to get to your favorite shows. But in terms of discovery, it seems less likely you'll stumble upon a local radio show that you may have never heard of.
Watch ESPN is still a separate application though, and appears to be running within the ESPN app. I say this because launching WatchESPN never leaves the ESPN app. The bottom navigation of the app shows icons for Home, Sports, Radio and a TV screen (that launches WatchESPN). One might wonder if WatchESPN is also on it's way out as a separate internet streaming service.
Updated: The ESPN app has a headphone icon that takes users to an audio page with Listen Live, My Podcasts, and Featured Podcasts. However, Listen Live is currently limited to select local programming such as ESPN Chicago, ESPN LA and ESPN New York.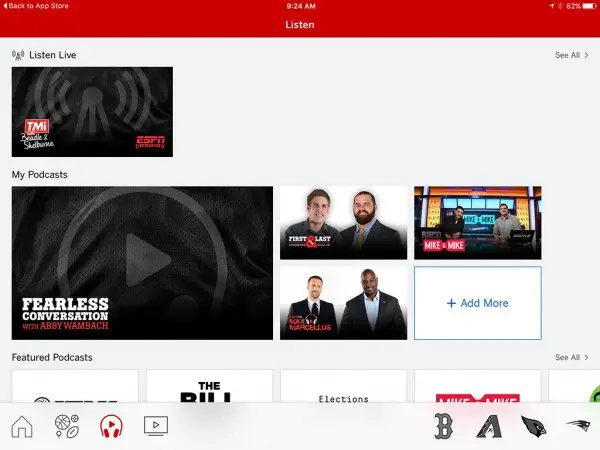 Contributing Author: Sam Donaldson