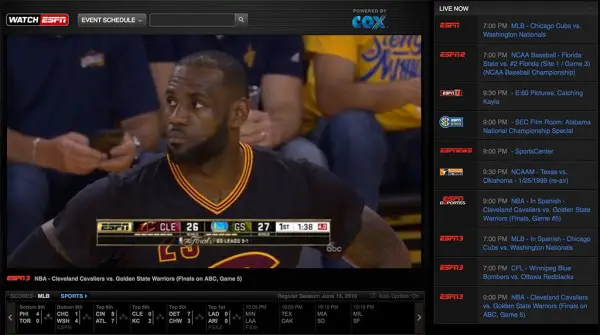 Want to stream Game 5 of the NBA Finals between the Cavaliers and the Warriors? Live ABC programming is only available in limited areas, so if you're trying to watch the game over the internet using ABC Live on web browsers, the ABC app, Watch ABC app, or your TV service provider (such as DirecTV, Verizon FIOS, etc.), you may be out of luck.
In fact, ABC states on their website live video is only available in Chicago, Fresno, Houston, Los Angeles, New York City, Philadelphia, Raleigh-Durham, and San Francisco. Bummer! And, ABC says the content (shows, sporting events, etc.) may even be substituted in some markets.
If you have tried to log-in abc.go.com/watch-live, you may have received the message:
"The WATCH ABC live stream is not available in your area. We are working to add more cities and TV providers."
And, even if you have a subscription to the NBA app your subscription might be subject to blackouts. When trying to watch the live-stream from the NBA from our office in Scottsdale, AZ (far from Oracle Arena in Oakland, CA) we get the message:
"We have determined that this game is a regional or national blackout game."
So what can you do to watch the NBA Finals on a PC, mobile device, or TV connected to a streaming media player?
Try ESPN. Head over to their web page at http://espn.go.com/watchespn/ to stream the NBA Finals Game 5 on a PC (which you can connect to a larger TV via HDMI if desired), or use the WatchESPN Go app for mobile devices (although you will need to sign-in with TV service provider credentials).