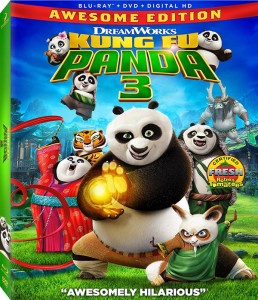 Kung Fu Panda 3 already released early to Digital HD last month, but many fans of the the 'Panda' franchise are waiting for the film on Blu-ray & DVD. DreamWorks will release a 2-Disc 'Awesome Edition' with both Blu-ray and DVD on Tuesday, June 28th. The edition will also include a Digital HD copy redeemable with either iTunes or UltraViolet.
The 'Awesome Edition' of Kung Fu Panda 3 also includes lots of bonus material such as deleted scenes, theatrical trailer, Karaoke with Po, gallery, and several featurettes. (Scroll down for a detailed list.)
On Blu-ray Disc, Kung Fu Panda 3 the video is formatted in MPEG-4 at 1080p resolution, with English audio in DTS-HD Master Audio 7.1. Other languages are offered in Spanish Dolby Digital 5.1 and French DTS 5.1.
In the third film from the 'Kung Fu Panda' franchise, Po (Jack Black) trains to defeat the supernatural villain Kai (Dustin Hoffman) who threatens to destroy Kung Fu. The movie's all-star cast also includes Bryan Cranston, Kate Hudson, Seth Rogen, Angelina Jolie, and Jackie Chan.
Kung Fu Panda 3 Awesome Blu-ray Edition
Bonus Features:
Disc 1: Theatrical Feature Blu-ray
**Everybody Loves a Panda Party
**Everybody Loves a Panda Party – Karaoke with Po
**Po's Posters of Awesomeness
**Panda Paws A Mei Mei Mini Movie
**Make a Panda Party Paper Pal
**Play Like a Panda
**The Origin of "Skadoosh"
**Faux Paws (Deleted Scenes)
**Gallery of Epic Artfulness
**Theatrical Trailer
Disc 2: DVD
Digital HD (Digital Copy, iTunes, UltraViolet)