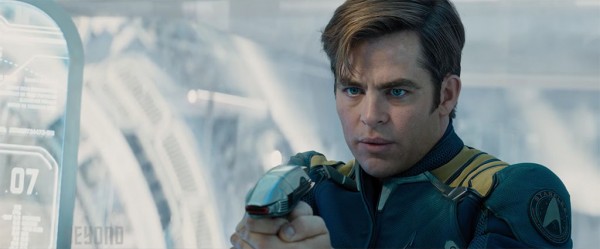 Paramount Pictures, Skydance, and Bad Robot have released a new trailer for Star Trek Beyond, the third film in the reboot of the Star Trek movie franchise following Star Trek Into Darkness (2013) and Star Trek (2009). 'Beyond' is directed by Justin Lin (Furious 6) from a script of which five writers get credit including actor Simon Pegg (Scotty).
Zoe Saldana (Uhura), Chris Pine (Kirk), and Zachary Quinto (Spock) are also among the actors returning to the franchise, and will be joined by Golden Globe-winning actor Idris Elba who plays the villain Krall.
Although the plot is unknown at this time, there's plenty of footage in the trailer figure out that the Enterprise crew face their biggest challenge yet — an alien species that threatens the entire Federation.
Star Trek Beyond will release to theaters in the U.S., including RealD 3D and IMAX 3D, this summer on July 22, 2016.
From Paramount:
"Star Trek Beyond," the highly anticipated next installment in the globally popular Star Trek franchise, created by Gene Roddenberry and reintroduced by J.J. Abrams in 2009, returns with director Justin Lin ("The Fast and the Furious" franchise) at the helm of this epic voyage of the U.S.S. Enterprise and her intrepid crew. In "Beyond," the Enterprise crew explores the furthest reaches of uncharted space, where they encounter a mysterious new enemy who puts them and everything the Federation stands for to the test.