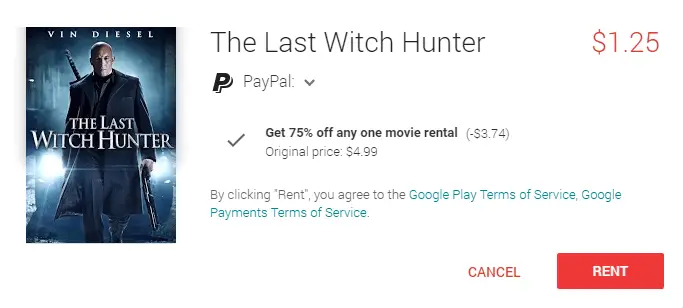 Google Play is currently offering 75% off one movie rental from their digital library. Most titles are available in HD, with new releases such as Spectre, Trumbo, and The Last Witch Hunter renting for $4.99 each.
Some movies, such as Straight Outta Compton, The Martian, and Bridge of Spies are renting for a buck higher at $5.99 in HD.
With the 75% discount, a $4.99 movie would be $1.25, while a $5.99 would be $1.50. The discount gets applied once the movie
Google Play supports HD playback on laptops, Chromecast, Roku, iOS (with Version 7 or higher), and most Android devices. HD playback on iOS devices isn't available offline.
The Google Play offer is good until March 31, 2016 on compatible Internet connected devices with a valid Google account.
Good news, you don't have to be a new Google Play customer to get the discount.