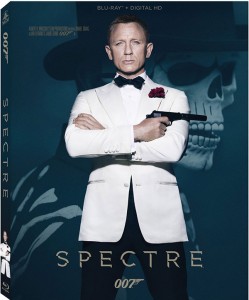 The latest James Bond film Spectre starring Daniel Craig will release to Blu-ray Disc, DVD, and On Demand Tuesday, February 9th. The 1-disc Blu-ray edition from 20th Century Fox will include the theatrical film, Digital HD copy via UltraViolet, and the bonus featurette "SPECTRE: Bond s Biggest Opening Sequence." The edition also offers a photo gallery and video blogs.
Best Buy and Target will be releasing their own exclusive editions. Best Buy will sell an "Only @ Best Buy" edition in SteelBook packaging. And, Target's exclusive edition will contain a bonus DVD with over 20 minutes of content including the extra "From Title Song to Title Sequence" featurette.
Spectre has already been released early to Digital HD, but the Blu-ray editions have some extra content not available with most Digital HD purchases (although Vudu and iTunes do offer some bonus material).
Here's how the editions are currently priced.
Spectre 1-Disc standard edition – $19.99
Spectre Best Buy Exclusive Steel Book edition – $24.99
Spectre 2-Disc Target Exclusive Edition – $19.99 (includes $5 Target Gift Card)
Spectre Bonus Features:
SPECTRE: Bond s Biggest Opening Sequence
Video Blogs
Gallery
20th Century Fox:
"A cryptic message from the past sends James Bond (Daniel Craig) on a rogue mission to Mexico City and eventually Rome, where he meets Lucia Sciarra (Monica Bellucci), the beautiful and forbidden widow of an infamous criminal. Bond infiltrates a secret meeting and uncovers the existence of the sinister organisation known as SPECTRE."