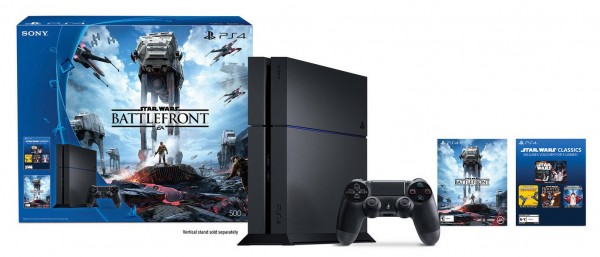 If you happened to miss Sony's Black Friday special pricing on PlayStation 4 bundles you might have yourself another chance. Starting December 6th, the price of the 500GB PlayStation 4 bundled with either Star Wars Battlefront or Uncharted: The Nathan Drake Collection will be just $299 — a price drop of $50 from the regular price of $349. It's a great price for a lot of gaming power, and the saved $50 can get you another game controller or additional game.
The Star Wars Battlefront bundle also includes four downloadable classic Star Wars games, while Uncharted: The Nathan Drake Collection includes the single player campaigns for UNCHARTED: Drake's Fortune, UNCHARTED 2: Among Thieves, and UNCHARTED 3: Drake's Deception.
Both bundles include a 500 GB PlayStation 4 console, one DualShock 4 wireless controller, AC power cable, HDMI cable, USB 2.0 cable, and mono wired headset.
The price drop will start on Sunday, December 6th and last for two weeks through the opening of Star Wars: The Force Awakens on December 18th.