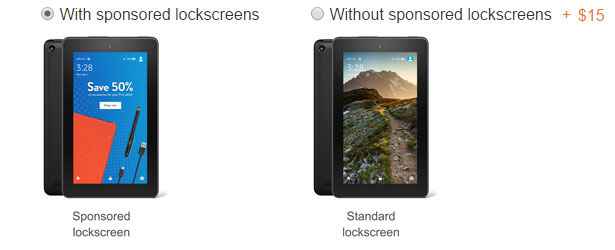 If you have ever looked into purchasing the $49 Amazon Fire tablet you might have noticed the device comes with an option to remove the "Sponsored Lockscreens" built-in to the operating system. The sponsored screens are apparently what allow Amazon to sell the 7″ display tablet for so cheap (list price $49), and don't interrupt use of the device but may annoy some owners.
Amazon has done this with other devices such as the entry level Kindle readers. Right now, however, with the 7″ tablet on sale at Amazon for $34.99 you can simply select the $15 option upon checkout to remove the sponsored lockscreens. The total amount will come out to $49 — still a great bargain for a basic tablet with 1024 x 600 resolution, quad-core processing, and expandable storage to 128 GB (8GB internal).
Those who have already purchased the 7″ Fire tablet can purchase the sponsor removal afterwards by going to Manage Your Content > Devices on Amazon.com from a PC, or by calling Amazon customer service. Then, you can use whatever picture you want to customize the lockscreen. The option to remove is usually priced at $15.
Remember, if you are purchasing the Fire tablet as a gift be sure to click off the "Registered to Me" option. You don't want the device to be shipped with your account pre-registered on the device.