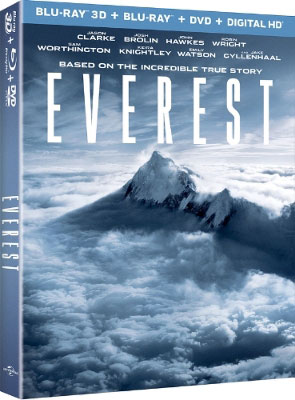 Universal Pictures Home Entertainment has announced the release dates for the adventure film Everest on Blu-ray Disc, Digital HD, and On Demand. The movie will first be available just in time for the holidays on December 22nd, but in Digital HD only from services such as Amazon Instant Video, iTunes, and Vudu.
Packaged media in the form Blu-ray, Blu-ray 3D, and DVD will arrive in stores on January 19th, 2015, along with On Demand rental options from TV providers and online services.
On Blu-ray, Everest is formatted in 2.40:1 widescreen aspect ratio with an immersive Dolby Atmos soundtrack in English (also in Dolby TrueHD 7.1 and Dolby Digital 2.0 for those without Dolby Atmos-supporting audio equipment). Total run-time of the film is 2 hours, 2 minutes not including bonus features listed below.
Everest will be available in both 2-disc and 3-disc combo editions with a DVD and Digital HD copy via UltraViolet or iTunes. The Blu-ray and Blu-ray 3D editions are currently available to pre-order for $24.99 and $29.99 (Amazon), respectively.
Exclusive Blu-ray Bonus Features:
LEARNING TO CLIMB: THE ACTOR'S JOURNEY – Cast members and the two film consultants who helped them prepare for the shoot discuss getting ready for the arduous production.
A MOUNTAIN OF WORK: RECREATING EVEREST – Bringing Everest to life required the filmmakers to recreate the mountain through state-of-the-art studio work and visual effects. The teams involved talk about how they made the seemingly impossible possible.
Blu-ray & DVD Bonus Features:
RACE TO THE SUMMIT: THE MAKING OF EVEREST – The trials and tribulations of cast and crew as they journey to the foothills of Everest and beyond, battling the elements and forming deep bonds along the way.
ASPIRING TO AUTHENTICITY: THE REAL STORY – Recollections of the tragic events of

May 10, 1996

, from those who were there, as the cast and filmmakers discuss bringing this harrowing tale to life with authenticity and respect.
FEATURE COMMENTARY WITH DIRECTOR BALTASAR KORMAKUR