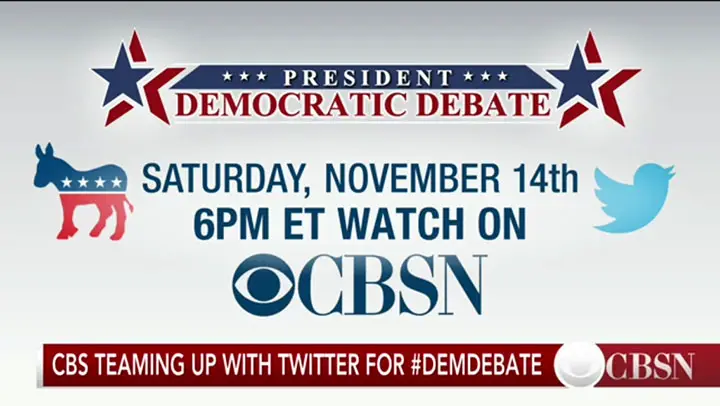 CBS News will host the second Democratic debate on Saturday, Nov. 14 at 9 p.m. Eastern Time from Drake University in Des Moines, Iowa. Live coverage will begin at 8 p.m. ET.
The two-hour debate includes former Secretary of State Hillary Clinton, US Senator Bernie Sanders and former Maryland Governor Martin O'Malley, and will be hosted by Nancy Cordes, Kevin Cooney and Kathie Obradovich.
How to Watch & Live Stream 2nd Democratic Debate on CBS
On Cable & Satellite TV
Since CBS is a free broadcast station anyone should be able to tune-in to their local CBS affilate and watch the 2nd Democratic debate. Just be sure to select the HD version of the channel!
On PCs
CBS News will make the Democratic debate available on the CBS News live web page. Anyone using a PC should be able to access the website through a browser as long as video streaming is not blocked. [http://www.cbsnews.com/live/]
On Mobile Devices
CBS News has mobile apps for Apple iOS, Google Android, and Windows devices. Just download the app from the device's app store to stream over Wi-Fi or 3G/4G networks.
On Streaming Media Players
The CBS News app is available for streaming media players including Apple TV, Fire TV, and Roku among others. Just download the app from the player's app store if you haven't already to stream the debate using internet service.
On Radio
CBS News will also broadcast the debate on radio stations nationwide, available over-the-air or through local affiliates or apps such as Radio.com and CBS Radio News apps for iOS and Android devices.
On Twitter
Twitter has also partnered with CBS for the debate, so Twitter users will be able to follow the conversations and trending tweets throughout the broadcast.