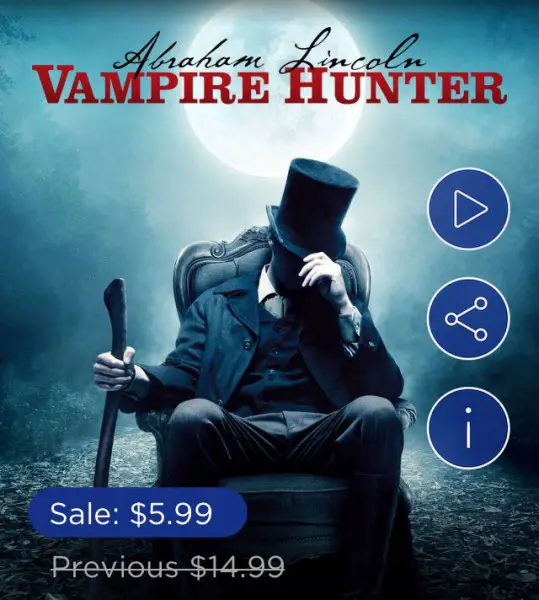 Looking for some inspiration for Halloween? Abraham Lincoln Vampire Hunter in Digital HD is just $5.99 today from iTunes. The film stars Benjamin Walker as a young, vampire-hunting Abraham Lincoln in 19th century America, and was written by Dark Shadows writer Seth Grahame-Smith.
Abraham Lincoln Vampire Hunter may have been one of the more overlooked action/fantasy films of 2012. With a budget of $70M, the film only grossed $16M in the US on opening weekend. Reviews of the film criticized the odd mix of seriousness and humor, as well as a lack of structure in the plot. But one Rotten Tomatoes reviewer may have hit the nail on the head calling the film "completely ludicrous but fun."
In any case, it's a visually well-made film that we strongly recommend. And, for $5.99 how can you go wrong?
Abraham Lincoln Vampire Hunter is normally priced $14.99 (HD) from iTunes, $12.99 from Google Play, and $9.99 from Vudu.
The sale is only good through today, October 23rd. However, keep in mind iTunes runs on Eastern Time, so Midnight ET is when the deal expires.
Note: This deal has expired, but check back for more movie deals!