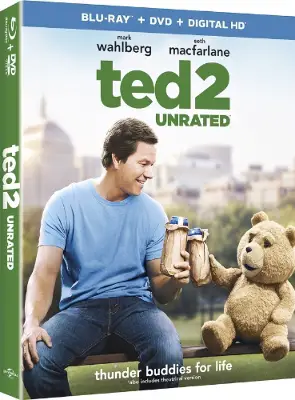 Universal Pictures Home Entertainment has announced the release date for Ted 2, including an extended 'Unrated' version on Blu-ray and DVD. The film will first be released to Digital HD on November 24, followed by the Blu-ray, DVD, and On Demand releases December 15, 2015.
Both the Blu-ray and DVD releases include an extended edition with never-before-seen footage that was apparently deemed "too rude for the cinema." It doesn't appear the early digital release will offer the "Unrated" version, however, the version may be available in digital formats coinciding with the Blu-ray release.
Ted 2 on Blu-ray is formatted in 1080p at 2.40:1 aspect ratio with an English DTS-HD Master Audio 5.1/ DVS DD 2.0 soundtrack.
From Universal:
"Mark Wahlberg (The Fighter, Lone Survivor) and Seth MacFarlane ("Family Guy," A Million Ways to Die in the West) reprise their star roles as John and his life-long best friend Ted, with an all-star cast that includes Amanda Seyfried (Les Miserables, Dear John) and Jessica Barth (Ted, "Family Guy"), as well as inspired cameos from NFL star Tom Brady, Liam Neeson, Jimmy Kimmel, Jay Leno, Morgan Freeman, Patrick Warburton, John Slattery and more in a "Lewd teddy bear comedy [that] has us in stitches, again" (Grand Rapids Press)."
BONUS FEATURES EXCLUSIVE TO Blu-ray:
A Giant Opening Dance Number
Deleted Scenes
Gag Reel
Cameo Buddies
BLU-RAY and DVD BONUS FEATURES
Thunder Buddies 4 Lyfe
Roadtripping
Creating Comic-Con
Feature Commentary with Seth MacFarlane, Alec Sulkin & Wellesley Wild and Jessica Barth