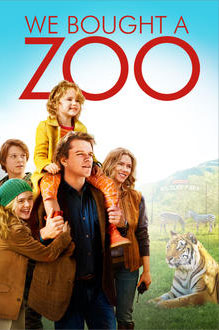 Premium films in Digital HD format are typically upwards of $9.99, and newer releases usually sit at between $14.99 and $19.99 for a long time. But today, the family movie We Bought a Zoo starring Matt Damon and Scarlett Johansson is just $3.99 to rent or buy in HD on iTunes. The usual price is $14.99, and you can expect it to go back to that price by the end of today, August 14. (Keep in mind, iTunes is running on Eastern Time, so Midnight ET is when the deal expires).
The iTunes HD format of We Bought a Zoo is available to download in 1080p HD (5.41GB), or stream/download in 720p HD (4.64GB).
20th Century Fox's We Bought a Zoo was co-written by Aline Brosh McKenna and Cameron Crowe, based on the book by Benjamin Mee. In the movie, a family deals with loss by moving into a struggling zoo property. Thomas Haden Church, Colin Ford, and Elle Fanning also star in the 2011 film that was directed by Cameron Crowe (Almost Famous, Jerry Maguire).