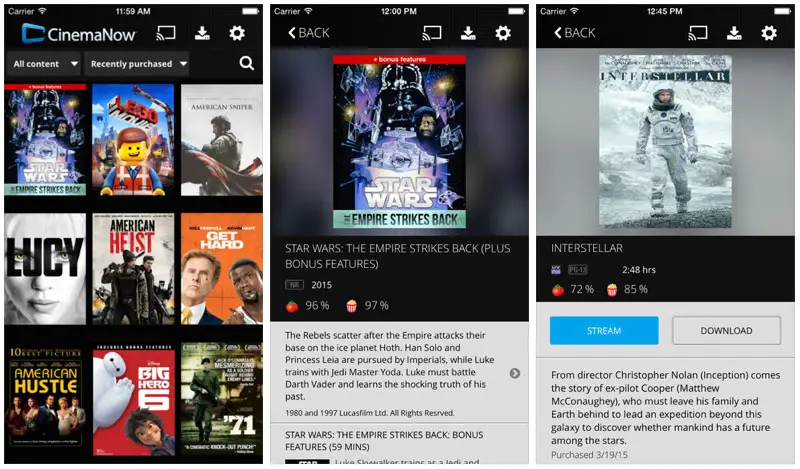 The CinemaNow app for Apple iOS devices has been updated to support higher pixel resolutions on the iPhone 6 and iPhone 6+. The update comes at the same time Instagram increased their default resolution to 1080 pixels to support iPhone 6. The app update also fixes some bugs, improves some performance, and adds some minor user interface changes.
CinemaNow is an internet-based service that offers over 30,000 TV show and movie titles on-demand for viewing on PCs, tablets, smartphones, and other devices. The service supports the UltraViolet digital movie database, so when an existing UV account is linked all purchased titles are available for viewing.
The iPhone 6 has a resolution of 750 × 1334 pixels, while the iPhone 6+ has a higher resolution of 1080 × 1920 pixels (down-sampled from 1242 × 2208). In effect, the iPhone 6 and 6+ can display 326 pixels-per-inch and 401 pixels-per-inch, respectively.
The resolution on the newest iPhones models far exceed the original iPhone that was only 320 × 480 pixels.
The CinemaNow app was also recently updated to support Apple Watch, and to improve stability when using Chromecast. The app is a 21.6 MB download and requires iOS version 7.0 or higher.