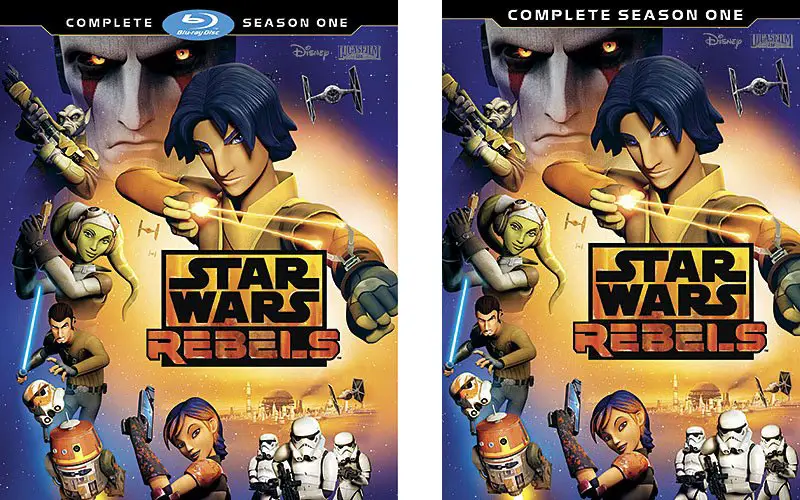 Here's some good news  for fans the animated series Star Wars: Rebels. Walt Disney Studios Home Entertainment and Lucasfilm have revealed the release date for Season One on Blu-ray Disc and DVD will be Tuesday, September 1st. The editions include all 15 episodes, as well as never-before-seen bonus material, and interviews with cast and crew.
The 2-Disc Blu-ray edition is currently priced at $45.99, while the 3-Disc edition DVD is priced at $39.99.
As far as cover art for Star Wars: Rebels. there isn't much that distinguishes the Blu-ray from DVD besides the Blu-ray logo in the header. So, make sure you grab the right format if purchasing from the shelf.
In Star Wars: Rebels, "It is a dark time in the galaxy as the evil Galactic Empire rules with an iron fist. Imperial forces have occupied a remote planet, ruining the lives of its people. A ragtag band of rebels — Ezra, Hera, Kanan, Sabine, Zeb and Chopper — have taken a brave stand against the ruthless oppression of the Empire in a fight to restore peace and freedom to the galaxy."
Star Wars: Rebels – Season 1 Special Features:
Rebels Infiltrates Star Wars Celebration (Blu-ray exclusive)
Season One shorts (Blu-ray exclusive):

"The Machine in the Ghost"
"Art Attack"
"Entanglement"
"Property of Ezra Bridger"

Rebels Recon: 14 behind-the-scenes featurettes
Star Wars Rebels – The Ultimate Guide
Star Wars Rebels Season 2 – A Look Ahead