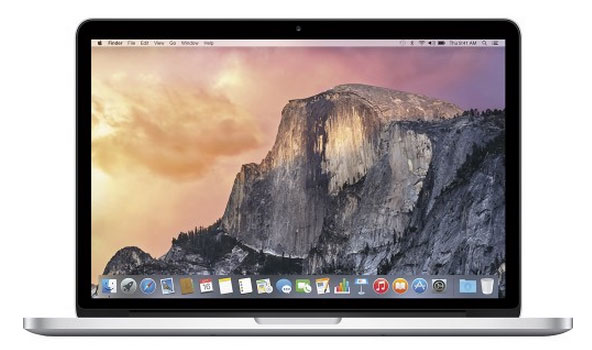 Best Buy's July 4th sale flyer has been released, with reduced prices on many Apple MacBook Pro and Air laptops including latest models and several with Retina display. What's nice about getting a discount off an Apple product is that it leaves room to consider purchasing AppleCare Protection Plan, a must-have for those who invest in pricey Apple computers.
If you're looking for the biggest discount, Best Buy is offering $125 off the Apple MacBook Pro with 15.4″ display, Intel Core i7 processor, 2GB dedicated graphics, 16GB RAM, and 512GB flash storage. The regularly-priced $2,499 MacBook configuration is $2,374.
The second largest discount is $100 off the same 15.4″ Apple MacBook Pro, except with a smaller 256GB flash SSD and less graphics power. The regularly-priced $1,999 laptop is $1,899.
In all, we counted nine MacBook Pro configurations on sale for the July 4th holiday, each with Best Buy's Price Match Guarantee (except for the latest 13.3″ model with Retina display).
Best Buy also has refurbished Apple MacBooks from their "Marketplace" on sale, but for this article we're just focusing on the MacBooks that are new and available from Best Buy directly.
Best Buy Fourth of July Sale Apple MacBook Pros
Apple MacBook Pro with Retina display (Latest Model), 13.3″ Display, 8GB Memory, 128GB Flash Storage – $1,234.99

(Save $65)

Apple MacBook Air (Latest Model), 13.3″ Display, Intel Core i5, 4GB Memory, 128GB Flash Storage – Sale: $949.99

(Save $50)

Apple MacBook Pro, 15.4″ Display, Intel Core i7, 16GB Memory, 256GB Flash Storage – Sale: $1,899.99

(Save $100)

Apple MacBook Air (Latest Model), 13.3″ Display, Intel Core i5, 4GB Memory, 256GB Flash Storage – Sale: 1,139.99

(Save $60)

Apple MacBook Pro, Intel Core i5, 13.3″ Display, 4GB Memory, 500GB Hard Drive – Sale: 1,044.99

(Save $55)

Apple MacBook Air (Latest Model), 11.6″ Display, Intel Core i5, 4GB Memory, 128GB Flash Storage – Sale $854.99

(Save $45)

Apple MacBook Pro, 15.4″ Display, Intel Core i7, 16GB Memory, 512GB Flash Storage – Sale: $2,374.99

(Save $125)

Apple MacBook Pro w/Retina display (Latest Model), 13.3″ Display, 8GB Memory, 512GB Flash Storage – Sale: $1,709.99

(Save $90)

Apple MacBook Air (Latest Model), 11.6″ Display, Intel Core i5, 4GB Memory, 256GB Flash – Sale: $1,044.99

(Save $55)