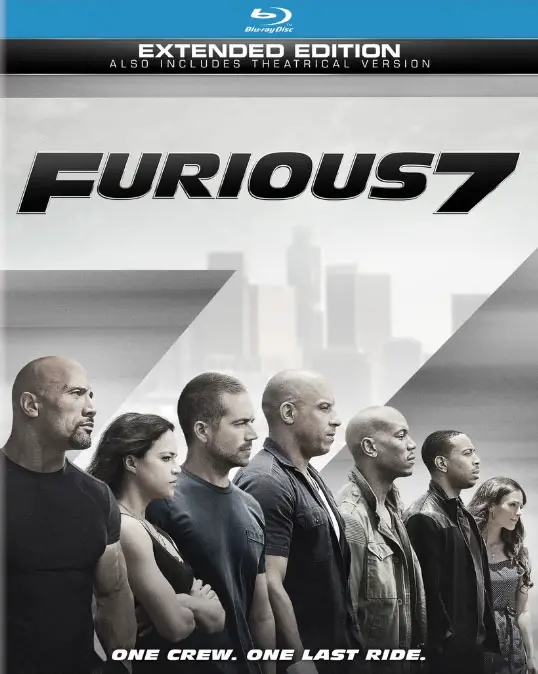 Universal Pictures Home Entertainment has announced the action film Furious 7 will release to Blu-ray Disc in an Extended Edition with over 100 minutes of bonus content. The film will be available on Blu-ray and DVD, as well as to rent On Demand, on Tuesday, September 15th.
The Blu-ray release of Furious 7 offers the most content, with both the theatrical and extended edition of the film, and over 90 minutes of exclusive content including deleted scenes, several featurettes, and the music video "See You Again" with Wiz Khalifa and Charlie Puth.
The Blu-ray combo edition of Furious 7 will also provide codes to redeem iTunes or UltraViolet digital copies.
"Furious 7" Blu-ray Exclusive Bonus Features:
Extended Edition
Deleted Scenes
The Cars of Furious: The car coordinator and his team join the cast and filmmakers for a closer look at the film's spectacular cars.
Flying Cars: People jump out of planes all the time, but not while sitting behind the wheel of a car. This entertaining featurette shows how the Furious 7 team pulled off this jaw-dropping sequence.
Tower Jumps: A look at how one of the most exciting stunt sequences of the film, the

Abu Dhabi

tower jumps, became a reality.
Inside the Fight: A combination of fight training footage and interviews takes viewers inside the fierce hand-to-hand fights.
Talking Fast: Director

James Wan

and the cast of Furious 7 break down the movie's most memorable moments and chat about how the Fast franchise has evolved over the years.
 "See You Again" Official Music Video 

Wiz Khalifa

and

Charlie Puth
"Furious 7" Blu-ray and DVD Bonus Features:
Back to the Starting Line: Producer Neal Moritz,

Chris Morgan

and the cast join franchise newcomer director

James Wan

as they look back at how far the Franchise has come to bring the latest installment to life.
Race Wars: Furious 7 brings the crew back to Race Wars, the iconic, fictional racing event from the very first film.

Vin Diesel

and a couple hundred friends are back for a full-throttle celebration of all things Fast with special guest-star Iggy Azalea, behind-the-scenes footage of the cars, the sweat and the girls.
Snatch and Grab: A behind the scenes look at shooting one of the premier action sequences in the franchise's history.
Making of Fast & Furious Supercharged Ride