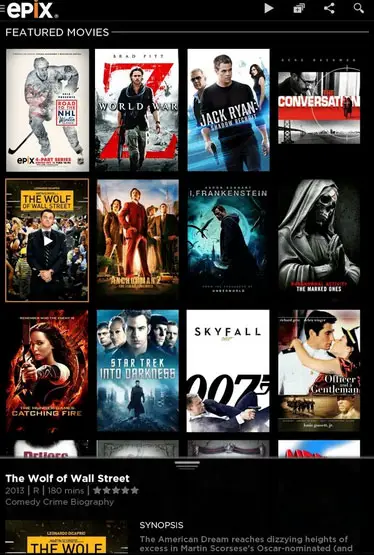 The latest update of the EPIX app for Android mobile devices includes support for Android TV, Google's Smart TV platform that recently launched in a lineup of new Sharp TVs.
EPIX provides commercial-free unlimited access to stream movies, concerts, comedy specials and other content on mobile devices with a subscription through a TV service provider.
The premium channel service, a joint venture between Paramount Pictures, MGM, and Lionsgate, is operated by Studio 3 Partners LLC. The network and services are currently only available in the US and certain US territories.
Android TV, running on both TVs and dedicated media players, includes features such as Google Cast, voice search, multiplayer game play, and access to the Google Play Store app.
Android TV is integrated into select Sony Smart TVs, Sharp Smart TVs, Razer's Forge TV media player, Nexus players, and the Nvidia Shield media player. Philips TVs with Android TV will also release this year.