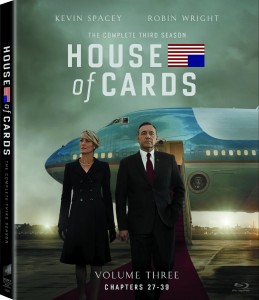 Netflix's original series House of Cards will release to Blu-ray Disc and DVD on Tuesday, July 7th. Both disc editions contain all thirteen episodes of the Golden Globe-winning show, along with some bonus material. The episodes, labeled Chapters 27 through 39, were simultaneously released on Netflix, February 27, 2015.
What's the incentive to buy the discs if you can already stream the entire season on Netflix? The 4-Disc Blu-ray and DVD editions from Sony Pictures Home Entertainment contain the new featurette "Backstage Politics: On the Set of House of Cards" that gives viewers a behind-the-scenes look at the production of the third season.
In addition, a new featurette exclusive to the Blu-ray Disc edition titled "A Death in New Mexico" chronicles the making of the finale episode (Chapter 39) of Season Three.
The 4-Disc Blu-ray edition carries an MSRP of $65.99, but can be found to pre-order at around $44.99. The 4-Disc DVD edition is list-priced at $55.99, but pre-orders are selling for about $34.99.
House of Cards stars Kevin Spacey and Robin Wright as Francis and Claire Underwood, the political couple you either love-to-hate or hate-to-love. This year, Kevin Spacey won the Golden Globe for "Best Performance by an Actor in a Television Series – Drama." In 2014, Robin Wright won the Golden Globe for "Best Performance by an Actress in a Television Series – Drama."