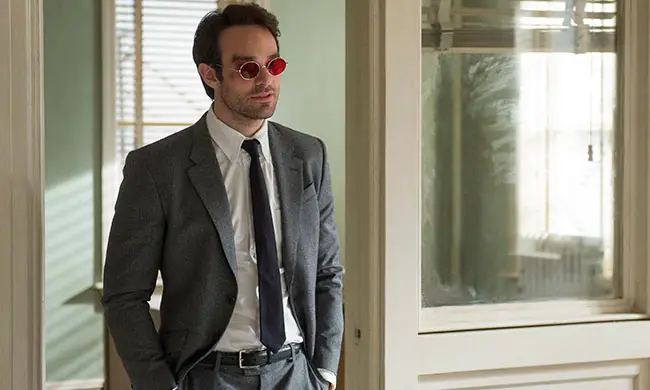 Daredevil first appeared in 1964 in the comic Daredevil #1, and like many other Marvel comic characters the hero has made it to motion pictures. But 20th Century Fox's Daredevil (2003) starring Ben Affleck and Jennifer Garner didn't win over fans to the same extent as SpiderMan or X-Men.
Still though, after the film rights reverted back to Marvel Studios in 2012 it was announced Netflix would be partnering with Marvel and Disney to produce a live action series.
Netflix launches the new series, composed of 13 one-hour episodes, on Friday, April 10th. As with other Netflix originals (House of Cards, Marco Polo), the new series will debut its entire first season on a Friday, enabling subscribers to "binge-watch" the entire season throughout the weekend if desired.
Daredevil will star Charlie Cox, Rosario Dawson, Deborah Ann Woll, and Vincent D'Onofrio. The series was created by Drew Goddard (World War Z) with production companies ABC Television Studio, Marvel Entertainment, and The Walt Disney Company.
The series is set in New York City's Hell's Kitchen, where blind attorney Matt Murdock (played by Charlie Cox) fights crime as a masked vigilante at night.
Marvel will release a special comic book tie-in to the new TV series titled Daredevil No. 15.1. The issue hits comic stores and in digital format this month.