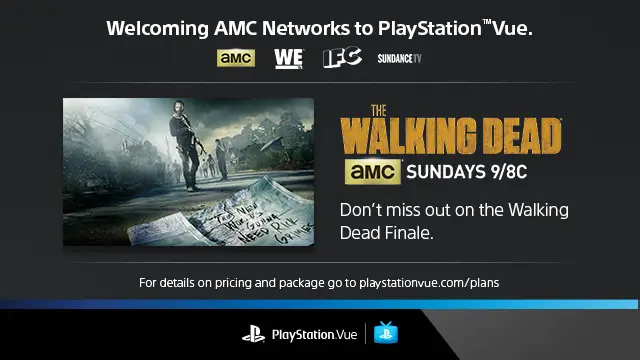 Sony's new over-the-top television service has added four more channels to the lineup: AMC, IFC, Sundance and WEtv, from AMC Networks. The streaming service, called PlayStation Vue, was launched just over a week ago in select cities. The service offers live TV channels over-the-internet with no long-term contracts required starting at $49.99 per month for the "Access" package.
Two other service packages are priced $10 to $20 higher. The PlayStation "Core" package costs $59.99 per month, adding local regional sports networks, additional sports and movie networks. A third package, called "Elite," costs $69.99 per month for all the channels in Access and Core plus about 25 more channels.
While AMC and WEtv are part of the base Vue package at $49.99 per month, to get IFC and Sundance customers will have to be subscribed to the Core or Elite packages.
For now, only PlayStation 3 & PlayStation 4 owners in the cities of New York, Chicago, and Philadelphia can get the service. However, on Sony's PlayStation Vue Web site you can sign up to be notified when Vue will be available in your area. Head on over the the PlayStation Vue Web page to get more details.