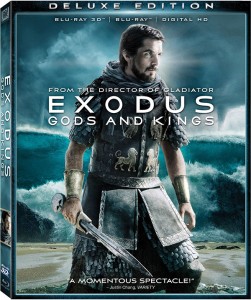 What's new on Blu-ray Disc, DVD, and Digital HD this week? Let's start with Exodus: Gods & Kings starring Christian Bale and Ben Kingsley. The film is available in several disc variations including a Deluxe Edition (pictured) with Blu-ray 3D, Blu-ray, and Digital HD copy via iTunes or UltraViolet. The Blu-ray discs are formatted in 2.40:1 aspect ratio with soundtrack in DTS-HD Master Audio 7.1.
20th Century Fox's Penguins of Madagascar is now available in quite a few disc variations (too many to list here), several of which are packaged with two "Poppin' Penguins Toys." Format options include Blu-ray 3D, Blu-ray, DVD, and Digital HD with an UltraViolet account.
Song of the Sea from the creators of The Secret of Kells gets released this week on Blu-ray Disc, DVD and Digital HD redeemable through iTunes or UltraViolet. A Combo from Universal Studios packages all three formats along with several bonus features including audio commentaries, behind the scenes content, and other extras.
Sony's contemporary rendition of the classic film Annie has been released to home media formats, including a combo package with Blu-ray Disc, DVD, and Digital HD via UltraViolet. The film stars Quvenzhané Wallis, Jamie Foxx and Cameron Diaz.
And, Criterion Collection has digitally remastered a couple classic films for release on high-definition Blu-ray. The first, Ride the Pink Horse (1947) stars Robert Montgomery as Lucky Gagin in the classic crime noir film that he also directed. The second release from Criterion this week is François Truffaut's drama/romance The Soft Skin from 1964.
New Blu-ray Disc, DVD, and Digital HD releases March 17, 2015
Exodus: Gods & Kings (Blu-ray 3D, Blu-ray, Digital HD w/UltraViolet)
Penguins of Madagascar (Blu-ray 3D, Blu-ray, DVD, Digital HD w/UltraViolet)
Annie [2014] (Blu-ray, DVD, Digital HD w/UltraViolet)
Song of the Sea (Blu-ray, DVD, Digital HD w/iTunes & UltraViolet)
Top Five (Blu-ray, DVD, Digital HD w/iTunes & UltraViolet)
Halo: Nightfall
Muddy Wolf at Red Rocks
The Lady From Shanghai [1947]
The Soft Skin [1964]
A MusiCares Tribute To Paul McCartney
Turn: Washington's Spies (Blu-ray, Digital HD w/UltraViolet)
Ride the Pink Horse [1947]
Aguirre, The Wrath of God [1972]
Troop Beverly Hills
A MusiCares Tribute To Paul McCartney
My Girl
The Way He Looks
The Wild One [1953]
Son of a Gun (Blu-ray, Digital HD w/UltraViolet)
Miley Cyrus: Bangerz Tour
Muck
Mark Of The Devil [1970]
Vice and Virtue [1963]
Hester Street [1975]