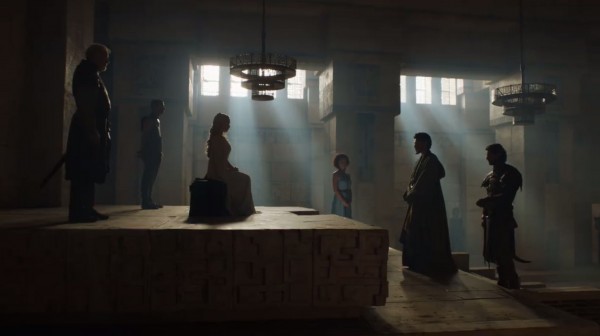 Apple and HBO have partnered up to launch a new over-the-top service called HBO NOW, and with today's keynote address a new Game of Thrones Season 5 trailer was revealed. The one minute, 50-second trailer is narrated by Emilia Clarke as Daenerys Targaryen who states "I am a queen, not a butcher." In the final clip we see her unleashing one of her dragons. Clarke has appeared in 37 episodes of the series.
Season 5 of Game of Thrones will premiere April 12th, 2015 with the episode "The Wars to Come." In the episode: Varys will reveal a conspiracy to Tyrion; Jon finds himself between two kings; Cersei and Jaime Lannister deal with the loss of their father; and Daenerys' ultimate rule is threatened.
You can view the trailer on the Game of Thrones Facebook page via iTunes, or go directly to the iTunes application (jump to the TV shows tab and scroll through the top slider).