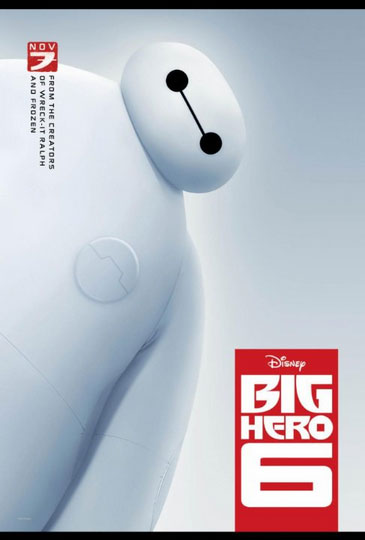 Walt Disney Animation Studios has released the animated film Big Hero 6 to Digital HD format, three weeks ahead of the Blu-ray, DVD, and On Demand rental options on February 24, 2015. Oscar-nominated for "Best Animated Feature Film of the Year," Big Hero 6 is based on the Marvel Comics superhero team first introduced in 1998.
The film was directed by Don Hall and Chris Williams, with Scott Adsit, Ryan Potter, and Maya Rudolph among the actors providing voiceovers for the film.
Big Hero 6 in Digital HD is priced on average at $19.99. Best Buy's Cinema now and Verizon FiOS On Demand have the movie priced higher at $24 and $21.99, respectively.
The Amazon Instant Video, CinemaNow Digital, Vudu, and Xbox video HD purchases include Bonus Features. The iTunes purchase includes iTunes Extras.
If you can wait, the two-disc Blu-ray Disc edition of Big Hero 6 will include a DVD and Digital HD copy redeemable with via Apple iTunes.
Big Hero 6 Digital HD/SD Price Comparison*
Amazon Instant Video – $19.99 (HD) $14.99 (SD available Feb. 24, 2015)
Apple iTunes – $19.99 (HD) $14.99 (SD available Feb. 24, 2015)
Best Buy Cinema Now – $24 (HD)
Flixster – NA
Google Play – $19.99 (HD)
Sony Entertainment Network – $19.99 (HD) $19.99 (SD+HD)
Target Ticket – $19.99 (HD)
Verizon FiOS On Demand – $21.99 (HD)
Vudu – $14.99 (HD or HDX) (SD available Feb. 24, 2015))
Xbox Video – $19.99 (HD) $19.99 (SD)
Xfinity On Demand – NA
*Prices at time of article publication.
NA – Not available at time of publication.