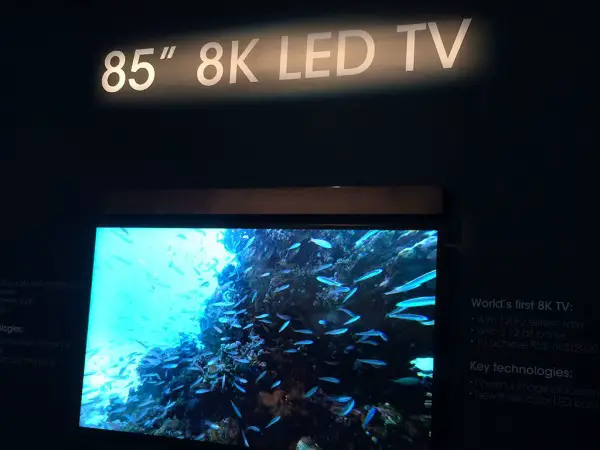 Sharp has an 85-inch 8k LED TV on display at CES that's definitely worth checking out if you're in the Central Hall. The set is the first 8k TV with a 120Hz refresh rate and 12-bit panel capable of displaying 85% of the BT2020 color gamut. The 8k TV from Sharp also incorporates three-color LED backlighting.
The 8k TV with 7680 x 4320 resolution displays a whopping 33.2 megapixels. If you can, check out the typography chart with which you almost need a magnifying glass to read the smallest size.
Audio features include 1000W immersive audio, 22.2 channels, Wave Front Synthesis with 60 channel array speaker, and conversion from 22.3 channel to 60 channel.
Wondering when 8k might even be a possibility? The folks at Sharp say the first 8k transmission is scheduled to take place in Japan in the year 2016.
Sharp is also displaying their "Beyond 4k Ultra HD" technology that adds more pixels to the 4k standard. The resolution, in effect, is 16.7-percent greater with 66 million subpixels (42 million more than standard 4k Ultra HD). Those sets feature Quattron and SPECTROS color, with over 100-percent of the DCI color gamut.