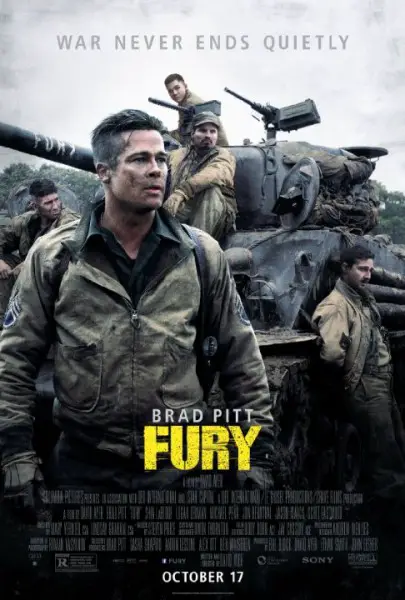 The latest trend in home media is to release films early to digital format before Blu-ray, DVD, and rental options are available. We've seen this with several recent blockbuster films such as Guardians of the Galaxy, Earth to Echo, and Transformers: Age of Extinction. Now, Sony Pictures has made Fury starring Brad Pitt available for digital purchase. Here's a price comparison.
Right now the cheapest place to buy Fury in standard-definition (SD) is Sony Entertainment Network's website where it's just $12.99 compared to $15.99 and $17.99 from most other sellers. For HD quality, the least expensive places to buy Fury are Amazon Instant Video, Sony Entertainment Network, Target Ticket, and Xbox Video — all priced at $17.99.
The iTunes digital copy includes iTunes Extras, with over 50 minutes of deleted and extended scenes, the exclusive "Heart of Fury" and four additional featurettes. The Vudu digital purchase includes the featurette "Brothers Under the Gun."
For those of you building up your UltraViolet-based digital movie collection, UV-supporting digital services include Target, Walmart's Vudu, and Best Buy's Cinema Now. Once you link your accounts from Cinema Now, Target and Vudu, your library should contain all titles purchased within the UltraViolet database.
The Blu-ray and DVD editions of Fury, as well as rental options, will be available on January 27, 2015.
Fury Digital HD/SD Price Comparison*
Amazon Instant Video $17.99 (HD) $14.99 (SD)
Apple iTunes $19.99 (HD) $14.99 (SD)
Best Buy Cinema Now $19.99 (HD) $16.99 (SD)
Flixster $19.99 (HD) $17.99 (SD)
Google Play $19.99 (HD) $14.99 (SD)
Sony Entertainment Network $17.99 (HD) $12.99 (SD)
Target Ticket $17.99 (HD) $17.99 (SD)
Verizon FiOS On Demand $19.99 (HD) $16.99 (SD)
Vudu $19.99 (HD or HDX) $15.99 (SD)
Xbox Video $17.99 (HD) $15.99 (SD)
Xfinity On Demand Not Available $19.99 (HD) $17.99 (SD)
*Prices at time of article publication.