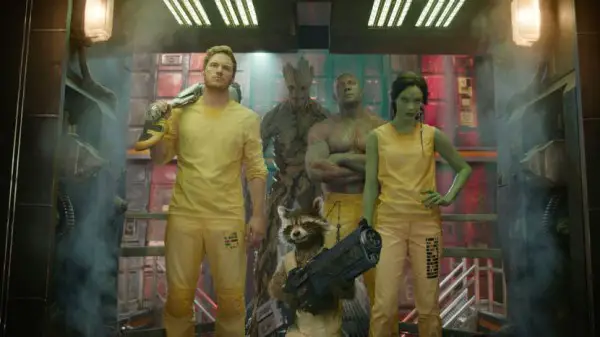 Early digital releases of movies have become common place now, as studios try to maximize revenue beyond theatrical showings. This week Marvel's summer blockbuster Guardians of Galaxy has released to digital format, but in a bit of a twist from typical early digital releases most video retailers are only selling the film in HD resolution. Some retailers are offer pre-orders of the SD version, which will be available either November 25th or December 9th, depending on service.
On average Guardians of Galaxy is selling for $19.99 in HD. However, Best Buy has taken a stand with the Marvel release, offering the title through CinemaNow for $18.99 with bonus exclusives. (Best Buy is usually priced higher on all new releases). The most expensive place to purchase Guardians of Galaxy in HD is through Verizon's FiOS On Demand service where it sells for $21.99.
Sony Entertainment Network is including the SD version with the price of the HD purchase (a nice move by Sony, and a great option for those who want to use bandwidth wisely for devices that don't really need full HD resolution). Xbox Video, on the other hand, is selling both the SD and HD versions for $19.99 each.
The Blu-ray Disc and DVD releases of Guardians of Galaxy, as well as On Demand rentals, will be available Tuesday, December 9th, exactly four weeks after the Digital HD format.
Guardians of Galaxy on Digital HD Price Comparison*
Apple iTunes $19.99 (HD) Dec. 9 (SD)
Amazon Instant Video $19.99 (HD) Not Available (SD)
Best Buy Cinema Now $18.99 (HD) $13.99 (SD)
Google Play $19.99 (HD) Not Available (SD)
Target Ticket $19.99 (HD) $14.99 (SD)
Vudu $19.99 (HD or HDX) Nov. 25 (SD)
Verizon FiOS On Demand $21.99 (HD) Not Available (SD)**
Xfinity On Demand Not Available (HD) Not Available (SD)
Sony Entertainment Network $19.99 (HD – includes SD)
Xbox Video $19.99 (HD) $19.99 (SD)
*At time of article publication.