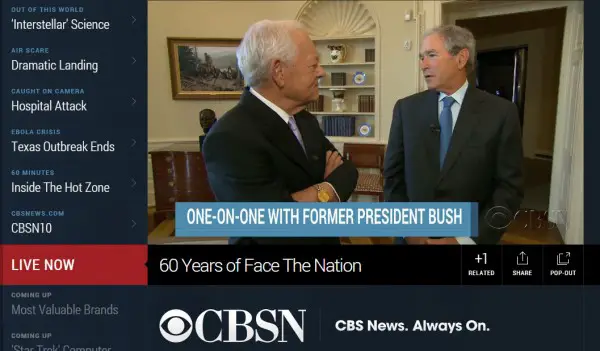 CBS has launched a new live streaming platform called CBSN that brings CBS news to internet-connected TVs, PCs, and mobile devices such as phones and tablets. The network is available 24 hours per day with access to CBS News' anchored coverage for 15 hours each weekday starting at 9:00 AM and ending at midnight Eastern Time.
Content on the new digital streaming network comes from CBS networks such as CBS News, CBS affiliate stations, CNET, CBSSports.com, Entertainment Tonight and other channels.
CBSN is available to stream on PCs through the website CBSNews.com or through supporting apps. Right now the CBS News app is available for Windows 8/8.1 devices, with Android support planned for the end of the year. You can also get the app for Amazon Fire TV, Roku players and Roku TV.
Beyond the live streaming broadcasts, additional features of the interactive platform include the ability of the user/viewer to choose content — either archived or live. Users can also share content via social media,
"There's a tremendous opportunity on these platforms for a true round-the-clock newscast. We're confident this service will appeal to both traditional news consumers and a whole new set of viewers," said Leslie Moonves, President and CEO, CBS Corporation.