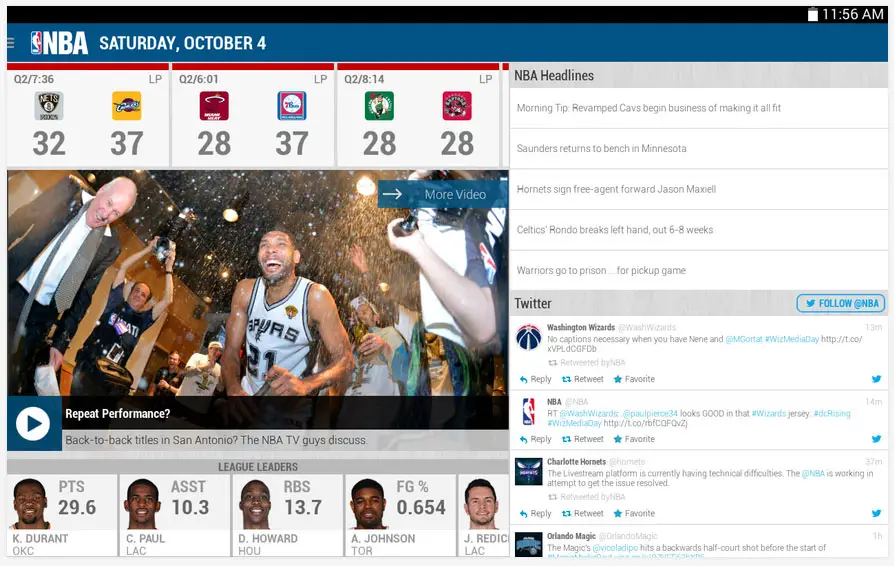 NBA Digital has updated the NBA Game Time app for the 2014/2015 season. The update, issued for both Google Android and Apple iOS platform devices, features improved League Pass video quality for this season. In addition, TNT Overtime is now included in NBA Game Time. And, the Game Detail view has been redesigned for the new season on both iPad and Android-based tablets. The updated apps also include various bug fixes identified in the previous version. 
NBA Game Time for Android devices is now on version 5.01 (42 MB) and requires Android version 4.0 or higher. The app for iOS devices (35.6 MB) requires iOS 7.0 or higher. Both apps are available to download free-of-charge from either Google Play or iTunes.
With NBA Game Time users have the option of upgrading to NBA League Pass which streams live broadcasts of games throughout the season (local blackouts apply), choose between home and away broadcasts, view a collection of NBA Hardwood Classics, and watch full or condensed replays of games.
The NBA Game Time Plus upgrade allows users to access all Game Time features, choose between home and away live radio broadcasts of each games, and watch content advertising free.