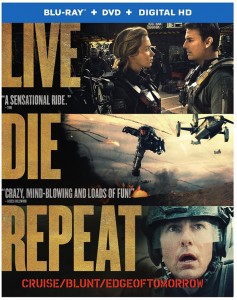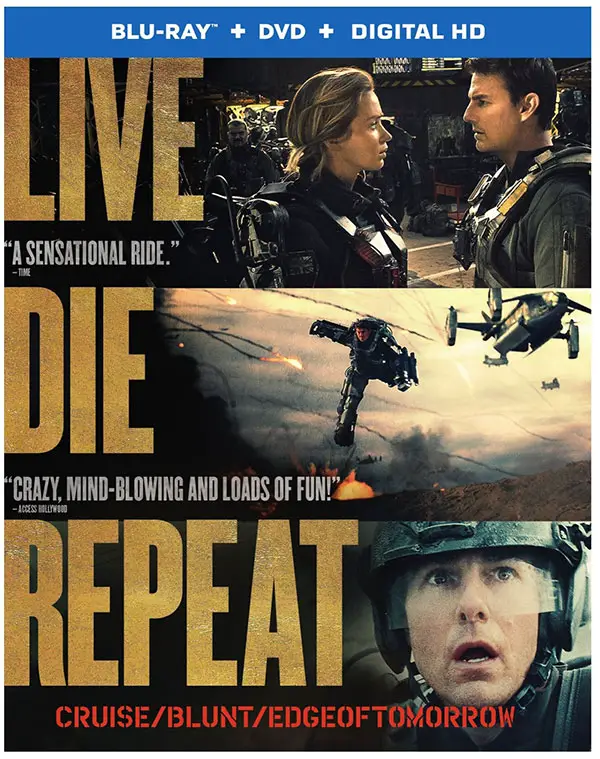 Here's what's new on Blu-ray Disc, DVD, and Digital HD this week. The Tom Cruise/Emily Blunt action film Live Die Repeat: Edge of Tomorrow is now available in several packaged editions including a three-disc combo with Blu-ray 3D, Blu-ray, DVD, and Digital HD copy, as well as a two-disc edition with Blu-ray, DVD, and Digital HD copy. Both editions offer the Digital HD copy via UltraViolet. Bonus features on both editions include the production featurettes "Storming the Beach," "Weapons of the Future," "On the Edge with Doug Liman," and several deleted scenes from the film.
Disney has released the Sleeping Beauty: Diamond Edition with Blu-ray, DVD and Digital HD copy via iTunes. The re-release of the classic animated film from 1959 also contains three deleted scenes, several featurettes, and sing-along among the bonus content. Aspect ratio is a bit different from what we normally see on Blu-ray, with a super wide format of 2.55:1. The soundtrack has been digitally re-mastered for DTS-HD Master Audio 7.1 channel surround sound, as well as the original soundtrack in Dolby Digital 4.0.
And, from Seth MacFarlane (Ted) the comedy A Million Ways to Die in the West is available in a combo edition with Blu-ray, DVD and Digital HD copy with UltraViolet. The Blu-ray edition includes an unrated version of the film, alternate beginning and ending, deleted and alternate scenes, gag reel, several featurettes, and unrated audio commentary.
Check out our picks  below for October 7, 2014. And, scroll down for new TV show releases this week.
Movies
Live Die Repeat: Edge of Tomorrow

(Blu-ray 3D, Blu-ray, DVD, Digital HD w/UltraViolet)

Sleeping Beauty: Diamond Edition

(1959) 

(Blu-ray 3D, Blu-ray, DVD, Digital HD w/iTunes)

Dragon Ball Z: Battle of Gods – Extended Edition

(Blu-ray, DVD, Digital HD)

Million Dollar Arm

(Blu-ray, Digital HD w/iTunes)

A Million Ways to Die in the West

(Blu-ray, DVD, Digital HD w/UltraViolet)

Kingdom of Heaven 10th Anniversary
Duck You Sucker Aka a Fistful of Dynamite

(1971)

Nekromantik
Sharknado 2: The Second One
Houdini

(Blu-Ray, Digital HD

Holiday Inn

(1942) (Blu-ray, Digital HD w/UltraViolet)

Topkapi

(1964)

True Confessions

(1981)

Mulholland Falls

(1996)

Billion Dollar Brain

(1967)

The First Power

(1990)

Godzilla vs Biollante

(1989)

Obvious Child

(Blu-ray, Digital HD w/UltraViolet)

Neverending Story 30th Anniversary
Jack and The Cuckoo Clock Heart

(Blu-ray, DVD, Digital HD)
TV Shows
Bates Motel: Season 2

(Blu-ray, Digital HD w/UltraViolet)

Vikings: The Complete Second Season
The Following: Season 2

(Blu-ray, DVD, Digital HD w/UltraViolet)

American Horror Story: Season 3 – Coven
Rick & Morty: Season 1

(Blu-ray, Digital HD w/UltraViolet)

Adventure Time: Season 4
Gargantia: The Complete Series