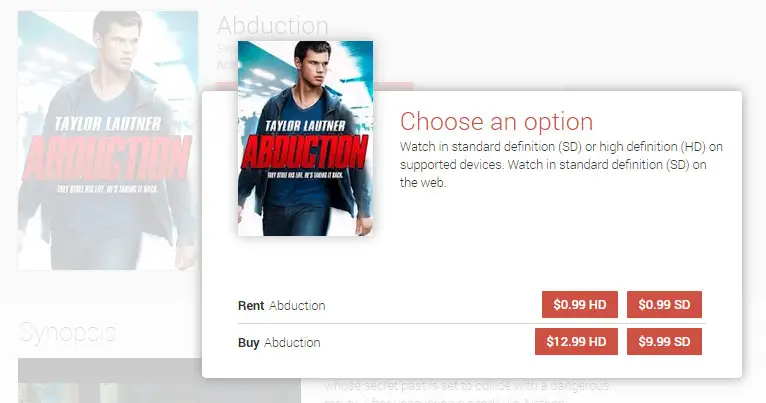 If you're a frequent Google Play customer you probably know the online service sells the latest digital movie and TV show releases, usually at competitive prices. But did you know the service also offers movie rentals as low as .99 cents? Right now Google Play has about 15 movies at that price including Abduction (starring Taylor Lautner, Alfred Molina and Sigourney Weaver), Don Jon (starring Joseph Gordon-Levitt, Scarlett Johansson and Julianne Moore), and Rage (starring Nicolas Cage, Rachel Nichols, and Danny Glover).
They've also got several independent movies available to rent for .99 cents including Blitz, Cocaine Cowboys, Punction, Upside Down, and Killing Season (starring Robert De Niro and John Travolta) among the titles.
Most of the movies are available in either SD or HD resolution for $0.99, but a few titles are only available in SD. If none of these movies peak your interest, they've also got a large selection of movies to rent for $1.29 and $1.49.
While there are many options for renting and purchasing movies and TV shows including iTunes, Vudu, and Amazon Instant Video among others, the Google Play Store usually has competitive pricing that's worth a look.
Here's a list of the movies now available to rent on Google Play for .99 cents.
.99 Movie Rentals on Google Play
Abduction

Black Death

Blitz

Cocaine Cowboys

Don Jon

Hank: Five Years from the Brink

Immortals

Killing Season

Next Goal Wins

Puncture

Rage

Stake Land

Stripped

The Family

Upside Down