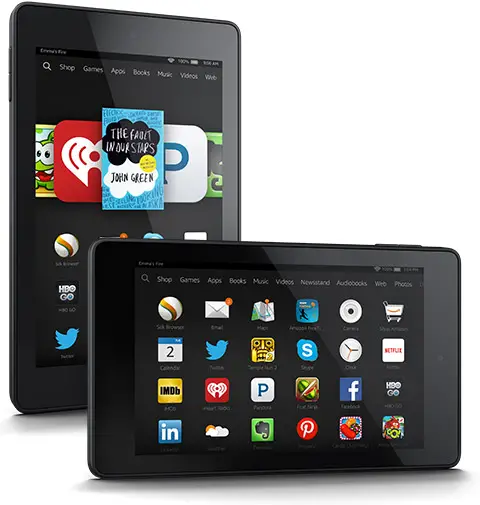 Today Amazon introduced five new tablet models that will start shipping next month. The new products address the needs of a wide range of customer needs, with pricing starting at $79 for the new and improved black and white Kindle E-Reader.
The first of Amazon's new tablets are the Fire HD 6 tablets starting at $99. Available in five different colors: Black, Magenta, Cobalt, White, and Citron, the tablet comes at this price with 8GB storage, quad-core processor up to 1.5 GHz, and 6-inch HD display at 252ppi (1280 x 800) resolution. The tablet can also be purchased with 16GB storage for $119. The Fire HD 6 will ship October 2, 2014.
The new Fire HDX 8.9 has been designed to be lighter, faster, and more powerful than before. New models start at $379 with 16GB storage, 8.9″ HDX display with 339ppi (2560 x 1600) resolution, 2.5 GHz quad-core processor, and Adreno 420 graphics processor for intensive gaming and video processing. The new models will also come in 32GB and 64GB configurations, when the HDX 8.9 is available on October 21, 2014.
Amazon has also added the Fire HD Kid's Edition. The tablets come with a "Break It, We'll Replace It" 2-Year guarantee and "No Questions Asked" policy. The 6-inch display Kid's Edition Fire HD costs $149, and is available in green, pink or blue colors. There will also be a 7-inch model for $189 when the products start shipping on October 21, 2014.
Finally, two new black and white Kindle models have been introduced. The most affordable carries a list-price of $79 and comes with built-in Wi-Fi and a 20%-faster processor. The more expensive kindle Voyage costs $199 and comes with built-in Wi-Fi, 300 ppi display, and new "Adaptive Front Light" technology. A 3G model of the Voyage will sell for $269.  The new Kindle Voyage models will be available on October 21, 2014.
The prices on the tablets increase if you want to remove the "Special Offers" and sponsored screen savers on the lock screen.