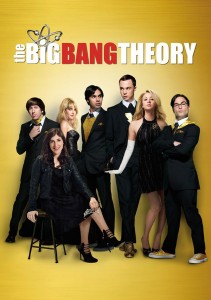 Here's what's new on Blu-ray, Digital HD, and DVD. Warner Bros.' Godzilla is at the top of the most popular releases this week, available in Two-Disc Blu-ray and DVD editions as well as Three-Disc Blu-ray 3D edition. Although the film was already released early to digital format, the Blu-ray Disc editions include several featurettes and bonus material, along with a DVD and Digital HD copy via UltraViolet. And for collectors, there's a Blu-ray MetalPak edition with a 'Press Here' button to hear the ear-piercing roar of Godzilla.
TV show seasons now available on Blu-ray include Big Bang Theory: Season 7, Arrow: The Complete Second Season, Grimm: Season Three, and Hannibal Season Two, all of which include Digital HD copies. There's also Season 17 of South Park, Sleepy Hollow: The Complete First Season, and From Dusk Till Dawn: Complete Season One available on Blu-ray Disc.
And, Sony Pictures Home Entertainment has released a special 30-year commemorative Blu-ray edition for Ghostbusters and Ghostbusters II. The films were digitally remastered in 4k, and the 2-Disc Blu-ray edition includes never-before-scene special features, production notes, insider info, and more. There's also a Limited Edition Gift Set with Slimer figurine and Digibook. (Scroll down for photos.)
These are our picks for the week of September 16, 2014.
Movies
The Fault in Our Stars Little Infinities Extended Edition

Godzilla (Blu-ray, DVD, Digital HD)

Godzilla: Limited Edition MetalPak (Blu-ray, DVD, Digital HD)

Ghostbusters/Ghostbusters II Limited Edition Gift Set

The Fault in Our Stars Little Infinities Extended Edition (Blu-ray, DVD, Digital HD)

The Texas Chain Saw Massacre: 40th Anniversary Collector's Edition (1974)

Eraserhead (1977)

The Great Train Robbery (1978)

Dreamcatcher

Think Like a Man 2 (Blu-ray Disc, Digital HD)

Congo

The Party (1968)

Silent Night Deadly Night 30th Anniversary

Meteor (1979)

Chile on Hell (Anthrax)

Star Trek Into Darkness Gift Set
TV Shows
Big Bang Theory: Season 7 (Blu-ray, Digital HD)

Arrow: Season 2 (Blu-ray, DVD, Digital HD)

Grimm: Season 3 (Blu-ray, Digital HD)

Hannibal Season 2 (Blu-ray, Digital HD)

Sleepy Hollow Season 1

South Park: Season 17

From Dusk Till Dawn: Complete Season One

The Roosevelts: An Intimate History

Dragon Ball Z: Season 7

Ranma 1/2: TV Series Set 3