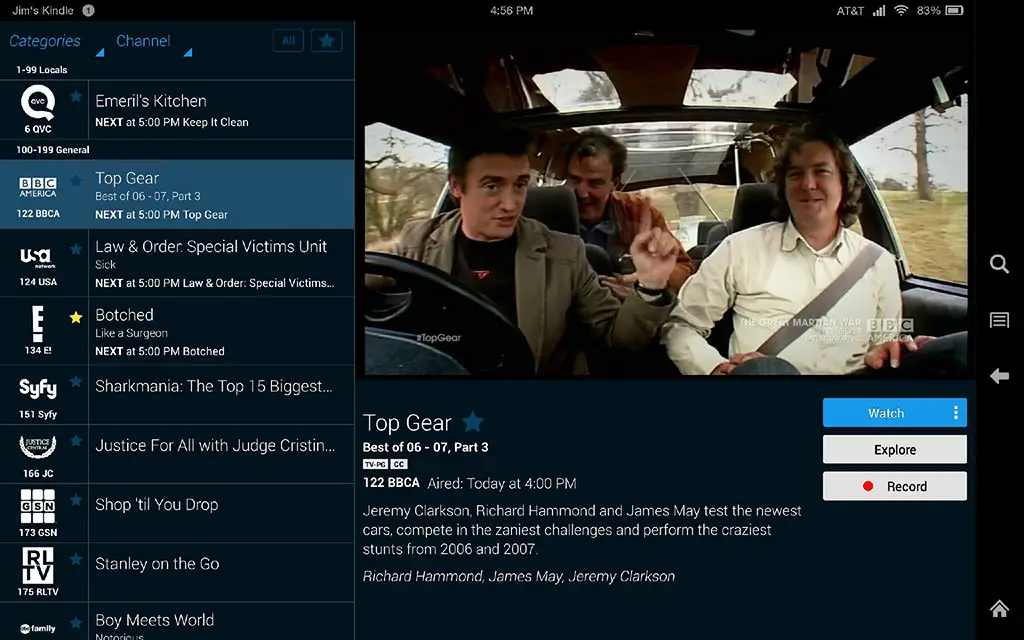 Here's an app update that's definitely worth your while. AT&T has improved the U-verse TV app  by adding access to over 50 new live channels. The new additions bring the live channel lineup to over 180 options, with the majority of the channels available even while away from home.
This month AT&T also made the U-verse TV app available for Amazon Kindle Fire HD & HDX tablets, as well as the new Amazon Fire phone. AT&T says the U-verse TV app now supports over 30 devices.
In addition to live programming, the app gives U-verse TV subscribers access to on demand TV shows and movies, remote control capabilities that also work with most TVs, programming information such as descriptions, cast and crew, and the remote DVR control for setting up recordings while away from home.
Check out the list below to see if your favorite channel is now available to watch live on mobile devices.
AT&T U-verse channels available inside and away from home:
ABC Family

Cartoon Network

Cinemax

Cinemax West

CNN

Cooking Channel

DIY Network

ENCORE BLACK

ENCORE ESPANOL

ENCORE CLASSIC

ENCORE SUSPENSE

ENCORE WESTERNS

EPIX (SD and HD)

EPIX West (SD and HD)

EPIX 2 (SD and HD)

EPIX 3 (HD)

EPIX Drive-In

ESPN

ESPN2

ESPNEWS

ESPNU

ESPN Deportes

Flix

Food Network

Fusion

GolTV

HBO

HBO West

HGTV

HLN

INDIEPLEX

Justice Central HD

Mexicanal

NHK World

QVC HD

QVC Plus HD

RLTV

SEC Network

Showtime Showcase

Showtime Showcase West

Sportsman Channel

TBS

TNT

Travel Channel

truTV

TCM Turner Classic Movies
AT&T U-verse channels now available only inside the home:
5 StarMax HD

HBO Latino HD

HBO Latino HD West

HBO Signature HD

HBO Signature HD West

HSN

Jewelry TV

MovieMax

OuterMax

Smile of a Child

TV JAPAN
Get more Android, iOS, and Windows 8 app news on our dedicated channel.