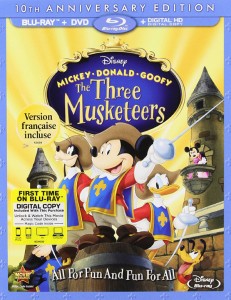 Disney has released several animated films this week to Blu-ray Disc including Hercules (1997), Bedknobs & Broomsticks (1971), Tarzan (1999), Muppets Most Wanted (2014), and the 2-Disc 10th Anniversary edition Mickey Donald Goofy: Three Musketeers. Also from Disney, the 2-Disc nature special Disneynature: Bears has been released to Blu-ray, telling the story of a family of bears in Alaska throughout an entire year. All of the new Disney releases above include Blu-ray Disc, DVD, and Digital HD copies of the film for viewing on multiple devices.
From Warner Home Video and DC Comics, the animated film Batman: Assault on Arkham is also available in a Blu-ray Disc combo pack that includes a DVD and Digital HD Copy via UltraViolet. And, Sony Pictures Home Entertainment has released Season 1 of The Blacklist starring James Spader and Megan Boone. The 5-Disc set also includes Digital HD copies.
Here are our Blu-ray & Digital picks for the week.
Disney on Blu-ray & Digital HD
Hercules (1997) (Blu-ray, DVD & Digital HD)
Tarzan (1999) (Blu-ray, DVD & Digital HD)
Bedknobs & Broomsticks (1971) (Blu-ray, DVD & Digital HD)
Mickey Donald Goofy: Three Musketeers 10th Anniversary (Blu-ray, DVD & Digital HD)
Muppets Most Wanted: Extended Edition (Blu-ray, DVD & Digital HD)
Disneynature: Bears (Blu-ray, DVD & Digital HD)
Adventures of Ichabod & Mr Toad / Fun & Fancy Free – 2 Movie Pack (Blu-ray & DVD)
New Blu-ray & Digital Releases
Batman: Assault on Arkham (Blu-ray, DVD & UltraViolet Digital Copy)
The Blacklist: Season 1 (Blu-ray & Digital HD)
The Railway Man
Young Justice: The Complete First Season
Out Of The Past (1947)
Looney Tunes: The Platinum Collection 3
Elvis: That's the Way It Is 2001
The Flintstones (Blu-ray & UltraViolet Digital Copy)
Rage (Blu-ray & DVD)
Turtle Power: Definitive History of the Teenage Mutant Ninja Turtles (DVD only)
Locke (Blu-ray & Digital HD)
Revolution: Season 2 (Blu-ray, DVD & UltraViolet Digital Copy)
Jarhead 2: Field of Fire – Unrated Edition (Blu-ray & UltraViolet Digital Copy)
Tie Me Up! Tie Me Down!
Mr. Majestyk (1974)